Come Oct. 23, Shelley Bailey and her husband have nowhere to live.
In July, after nine years renting at Varsity Estates Village, a townhouse complex in Calgary's northwest, the elderly couple received a notice ending their month-to-month tenancy. And as rental rates skyrocket, the urgency of finding a place to live while on a fixed income is taking a heavy toll on the Baileys.
Shelley Bailey wants to stay in her community. "I can walk to my doctor's, and go to infusions for my Crohn's," she says, pausing before breaking into tears. "This is just killing me. I don't sleep. I've lost 15 pounds."
The Baileys aren't the only tenants at Varsity Estates who were asked to move out in July. Nicole and Ryan Stoneman, parents of four children, were also informed that their lease wouldn't be renewed, and that they should vacate their home by Oct. 31.
"We're still confused why they're not renewing our lease," Ryan Stoneman says. "We've been living here seven years. We pay our rent every month."
"The month of August was just a gong show," Stoneman says, as he and his partner scrambled to find a new home. "We emailed tons of places [but] a lot of landlords out there don't want to rent to a family with small children. They're not supposed to discriminate, but they're able to because there's such a lack of housing."
While Calgary city councillors debate the best ways to improve housing affordability and discuss the adoption of a new corporate housing strategy, many Calgarians lose their homes to rent hikes and renovictions.
Like the Baileys and the Stonemans, nearly 46,000 Calgary households are unable to afford housing that rents for more than $1,400 a month in rent. Yet, in August, asking rents reached a record high.
Tomorrow, city council is holding a special meeting to decide what's to be done about Calgary's housing crisis. But even if the proposed housing strategy moves forward, the imminent needs of tenants will remain unaddressed.
The precarity of being a tenant
According to Fable Downing, an organizer with Alberta ACORN, or the Association of Community Organizations for Reform Now, "there's a strong incentive for landlords to cycle through new tenants as frequently as possible, so that they can raise the rent as frequently as possible."
But what happens when the landlord is a non-profit? In the absence of government funding to repair units and keep them habitable, housing operators can cite substandard living conditions as a reason to boot tenants.
Varsity Estates Village is owned and operated by Silvera, a non-profit agency that provides housing for seniors. In 2020, Silvera received a $12 million donation from an anonymous benefactor to acquire the property. This gift would allow the agency to eventually redevelop the site as affordable housing, or leverage the asset for a future development.
In the meantime, the existing tenants residing in the complex's 39 units have been allowed to remain. But like most renters in Alberta, their status is precarious, and they are afraid.
Because Silvera mentions in its 2021-26 strategic plan a new build in Varsity, the current tenants fear not only that their units won't receive proper maintenance, but that they risk eviction if they request repairs, says Alex Sanderson, a long-time resident of Varsity Estates Village. "Folks are very fearful that if they raise any sort of a stink whatsoever, they have no chance of staying."
According to Kyle Fawcett, Silvera's chief external relations officer and former Progressive Conservative MLA, the reason for the termination of the Baileys' and the Stonemans' tenancies is that the units are no longer deemed suitable for habitation in the long-term, and the agency doesn't have the resources to conduct the repairs needed within a reasonable timeframe.
"From a risk management perspective, we're in a spot where we no longer can have tenants in those units and be comfortable based on the reports we've received from independent third parties and regulations," Fawcett told The Tyee.
Given the non-profit's constraints, by the end of October there will be eight units vacant in the complex — all of which are in need of varying degrees of repair.
"This is a very unique building for Silvera," Fawcett explains. "We typically operate affordable housing for seniors that is supported by government. This is a building that's owned by Silvera [but] it's not supported by any government funding, [and] it's not under any sort of affordable housing regulation."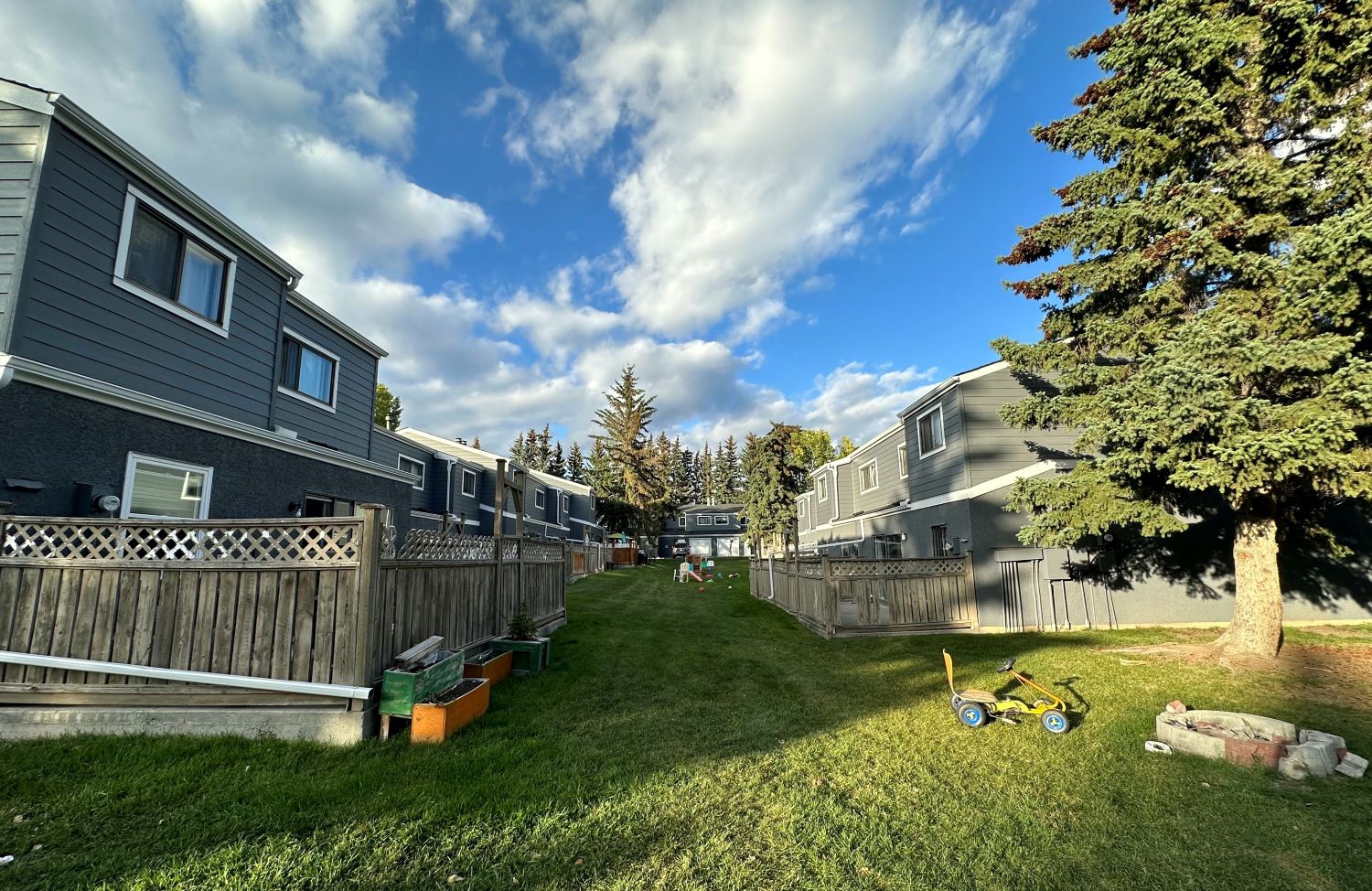 Silvera's initial plan for this property was to redevelop it over the next five to 10 years, Fawcett says, but rising capital costs could expedite this. "As we start looking at that capital investment required to operate the property, it might be that those timelines may have to be accelerated, because the capital investment required in the current property is significant."
Without access to government funding, Silvera is not able to repair the units without displacing existing tenants. "With rising costs, rising interest rates, we just do not have the capital to invest in repairing these units," Fawcett says. "They're not being moved out because we're looking to do renovations. In fact, it's the opposite."
As a civic partner of the City of Calgary, however, the organization has ready access to various funding streams, including loans. In March last year, Silvera borrowed $8.1 million from the city to refinance Varsity Estates Village. "It's a commercial loan," Fawcett says. "There's no obligation to provide housing or anything. We have debt covenants that we need to meet with this loan."
According to Coun. Kourtney Penner, who sits in the board of Silvera, board members don't weigh in on operational, piecemeal decisions such as evictions. "Now, if we want to have a conversation as a board to strategize about what are the conditions for evictions — that's something different," she says. "Because that would apply broadly to the corporation."
No short-term solutions
While many Calgary renters are hopeful that implementing a new housing strategy will address their woes — none of the 54 actions outlined in the housing strategy can help the Calgarians who are currently at risk of losing their homes.
"That short-term relief that people are needing is not there," says Coun. Penner. "This is really about a long-term strategy."
For the tenants of Varsity Estate Village, this is a significant omission. In a public submission to city council, the tenants express their discontent with the city's attitude towards the current needs of renters, which makes them feel expendable.
"We are deeply concerned with an issue we have observed in regards to the [c]ity's push for affordability, with its focus on [future] affordability, which appears to be tied to the construction of new structures, with very little to no focus on current residences."
But there isn't much the city can do in the short-term to address this. The capacity to implement policies such as rent caps and eviction prevention measures rests with the provincial government. For this reason, Calgary's housing strategy calls to advocate for better tenant protections within a two-year timeframe — rather than to take immediate action.
"I don't think the provincial government isn't aware of the challenges," Coun. Penner says, noting that having tenant protections as a next step in the strategy allows the city to focus on issues they can effectively address, such as reducing barriers to new construction and increasing housing choice across the city.
"This is the city putting their hand up and saying, 'This is what we can do; these are the actions we can take,' and showing leadership," says Penner. "And hoping that other orders of government follow suit and see that there is real benefit to helping people out."
Tomorrow, city council's vote will define what the future holds for the growing number of Calgarians in housing need. Failure to approve the housing strategy will limit access to federal funding to build much-needed affordable housing, keeping tenants at the mercy of the financial interests of their landlords — whether they're individuals, corporations or non-profit agencies.