Even before they announced that they were going to tear the building down, none of the businesses at 3645 Kingsway stuck around for very long.
The computer repair store came and went. So did Phatboy Fireworks. For a brief moment, there was Asia Market, a Thai grocer with an impressive supply of imported herbs. And during the pandemic, there was the beloved La Tiendita, which sold Latino goods and nostalgic street snacks like chili lime fruit cups. But even they both had to pack up and resettle in other parts of town, leaving the vacant storefront to the mercy of graffitists here at the easternmost edge of East Vancouver, a block from where the city ends and Burnaby begins.
Earlier this year, ahead of the demolition, workers stripped the paint and stucco from the building. By June, above the front door that looked out on Kingsway for 98 years, something appeared: a ghost sign.
You can just make out the bold hand-painted letters on the roughed-up wood. In white capitals with black borders, "CENTRAL PARK." Underneath in yellow capitals with red borders and an elegant ampersand, "SASH & DOOR."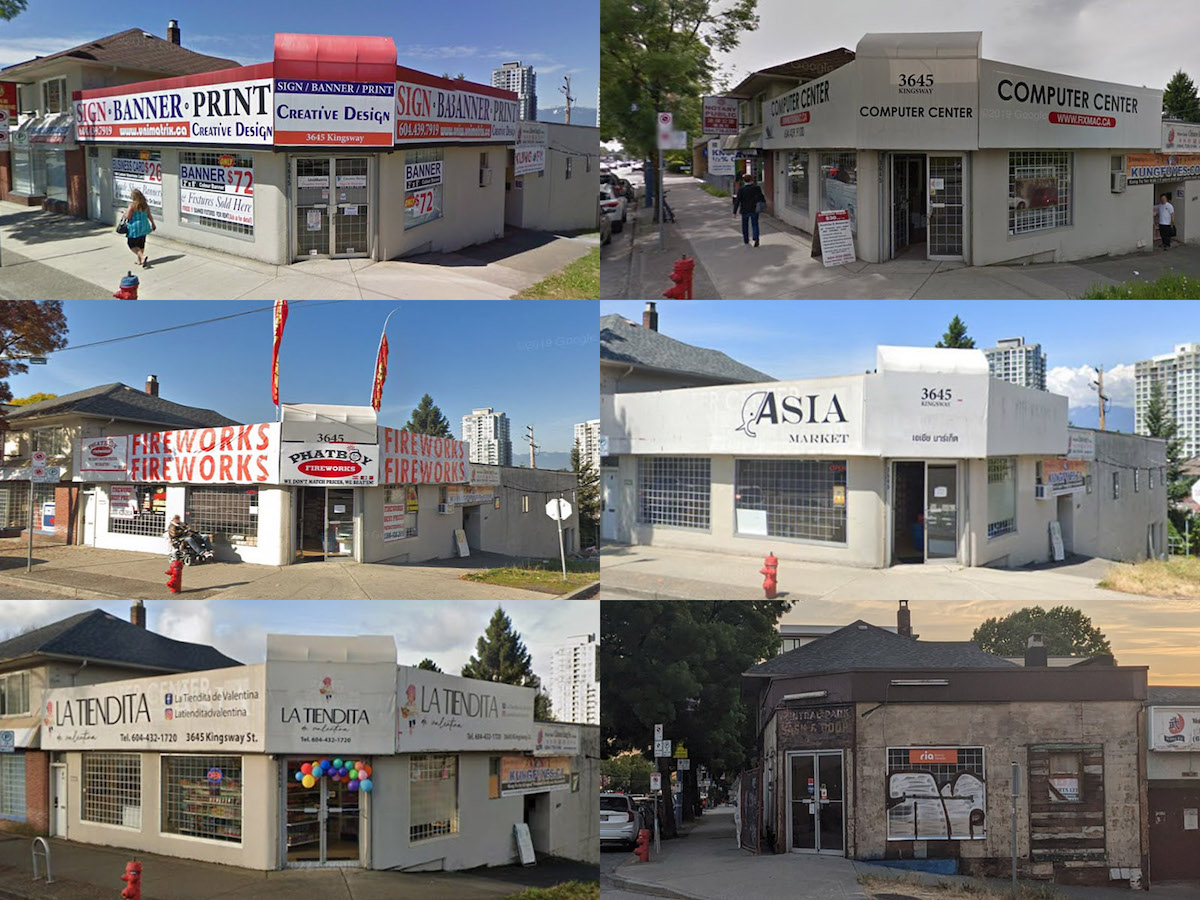 It's a delightful thing when the layers of a city are peeled back to reveal a ghost sign from the days when they were just painted onto buildings, before Jim Pattison's billboards and three-dimensional letters cut by computers. But the discovery of a ghost sign is also bittersweet, because they're usually daylighted by development for a brief moment, only to be covered up again or destroyed.
The bulk of such signs show up in and around Vancouver's downtown core, where the city began and many old buildings still stand. Reporter John Mackie has avidly chronicled them in the pages of the Vancouver Sun, from old ads, like one for Shelly Bakery's famous "4X" bread that showed up on the side of a building on Hastings Street, to old movie posters, like one for the Harold Lloyd comedy Grandma's Boy, which played at the Capitol theatre in October 1922.
There are, however, a few that have appeared in Vancouver's early streetcar suburbs. The now-closed Browns Socialhouse on West Fourth Avenue in Kitsilano preserved a sign from the Vineyard restaurant that once occupied the space. And just last year, a sign for the chain of Wosk's stores that used to dot the city showed up on a building at Kingsway and Fraser for about three weeks before it was demolished.
As for Central Park Sash & Door, it was located in Collingwood, established as a working-class neighbourhood of families with schools, churches, warehouses and manufacturing. One notable facility made flowerpots from local clay. These days, the city often refers to the area as Renfrew-Collingwood, lumping the old neighbourhood together with adjacent ones.
The old interurban streetcar line stretched from Vancouver's downtown through Collingwood and into Burnaby and New Westminster. It stopped running in 1954, but the modern SkyTrain follows this old route and a collection of rental and condo towers have sprung up where industry used to be, continuing its legacy as a transit-centred community.
According to old British Columbia and Yukon directories, Central Park Sash & Door opened in 1934. In October of that year, the business ran an ad in the Chinese Times, a local daily newspaper, about its woodwork services for doors and windows. The Government Gazette notes that the owner was named Harry Poole, not ethnically Chinese.
However, it is notable that Poole, a white man, advertised business directly to Chinese-speaking customers as this was the middle of the Chinese exclusion years, during which borders were closed to immigrants and institutional racism was at its height.
The Tyee had access only to business directories up to 1955, during which the business was still present, sharing the block with a used-car lot and a funeral parlour.
A four-storey rental building with shops is coming to the site.
This summer, passersby had a chance to examine this remnant of an older Collingwood, but only briefly. By August, the building was torn down. The ghost sign, like others in the city, was lost with it.