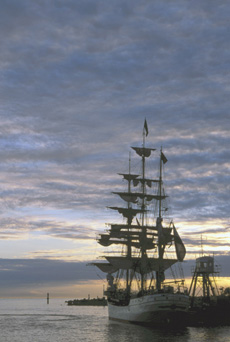 So what's the verdict on Vancouver's revived Sea Festival? "It's poorly organized."
Since that assessment comes from Scott, one of the guys responsible for handling ticket sales at the Maritime Museum location, you can probably take it as gospel.
Sea Fest has had a bad rep for years. Formerly a Sunset Beach event, it was derided as a pointless piss-up where a day of uninspiring displays was followed by an evening of drunken rowdiness. Eventually it was cancelled. Now, desperate for pegs on which to hang summer fun, the City is seeking to revive the event as the Sea Vancouver Festival, buoyed this year by the arrival of tall ships. Down by the Maritime Museum on Friday, things did not seem to be going well.
Shuttled out
Scott has been apologizing quite a bit this afternoon—in this case, to two unhappy women named Anna and Sarah. They bought tickets for the event online, anxious to see the tall ships anchored in English Bay. "Sarah drove in from Abbotsford," Anna says, adding, "She's pregnant."
On the phone, Anna had been told the shuttle boats would run until 7:00 pm. Not quite -- the tall ship festival closes at seven, but the last shuttle from Maritime Point is at 5:30 pm -- and the gates to the final shuttle closed at 4:30 pm due to a long line-up. It's now just after five. Too late for Anna and Sarah and several others holding tickets. "I'm really unhappy," Anna says. "We can't come back another day."
Another couple is inquiring about tickets to the evening's stage performance of HMS Pinafore. It's a steep 35 bucks for an outdoor seat, they are told -- but just what kind of seat the apologetic staffer cannot say. "Some are benches and some are chairs," she says. "I think."
Pointless grounds?
Ten bucks of that price is for mandatory admission to the grounds. "We don't care about the grounds," says the man, a visitor from England. The couple leaves without buying.
His point about the grounds is well taken. Once you remove the tall ships (20 bucks for a shuttle ticket), Sea Vancouver Festival could drive you to small claims court to reclaim your sawbuck. There are some food concessions; a few booths that offer promotional candy bars, ladies shavers and sample size Starbucks beverages; an interesting carving display; some desultory tents set up where members of a historical society recreate the seaman's life and a group of singers serenading the shuttle lineup with sea shanties. Pleasant enough. But there's a hell of a lot more going on next door at Granville Island, and that's free.
At least the organizers are fearless. A row of terminals has been set up to gather feedback. Two women are taking the time to punch in responses. And those will be? "Disappointed," mutters one. "Not very impressed," says the other.
Unknown greatness
Another woman asks me where the entertainment stage is. Over at the Plaza of Nations, I suggest -- the Cowboy Junkies were scheduled to take the stage last night, and it was Jeff Healey the night before. "Jeff Healey was here?" the woman says in disbelief. "I didn't know that."
Nor did many others, apparently. Nearby, an official photographer stands talking into a cell phone: "Yeah, I was at Jeff Healey last night. No, I didn't take any crowd shots 'cuz there weren't enough people there. Too bad—he was great. The people who were there seemed to be having a good time."
Sea Vancouver Festival is broken into several locations. If the Maritime Museum locale seems slow on Friday afternoon, the Plaza of Nations is downright depressing. The only thing hopping is the casino. The stage is empty, awaiting the evening's performance. A few stilt-walkers amble around, bravely attempting to whip up a festive air. A band plays to a non-existent shuttle line-up.
Unlike the Maritime Point location, there is no one queued up for the shuttle here, and with good reason—the next one is not scheduled to leave for a full 75 minutes. And from the Plaza of Nations, the trip out to the tall ships takes 45 minutes. Not much reason to come all the way out here, unless you already know how bad the lineup is at the museum.
The disappearing tall ships
Virtually everyone who has bothered to turn out this afternoon is interested in the tall ships -- for all intents and purposes, they are the festival. But what of next year? The arrival of the ships was not planned to coincide with Sea Vancouver Fest—it seems to have been more the other way around, with the festival taking advantage of the tall ships' presence to add luster to the revived event. No one has promised tall ships for next year. A news report on BCTV says the tall ships won't be back for three years. For Sea Vancouver Festival, that will leave—what?
The concerts and evening shows, perhaps? Ideally they ought to feed off, and contribute to, a general festival air. But feed off what? Unless you count the casino, there is precious little at the Plaza of Nations to draw anyone. Attendance at the shows would seem to reflect that fact.
Grassroots gods
A good festival is a swell thing. And they are hard to organize from scratch. Many of the best seem to spring up from the grass roots. The Greek Festival recently returned to West Broadway by popular demand, and by all accounts it was lively fun. Why the Sea Fest one is dead in the water is a mystery for the festival gods. Meantime there's always the weekend—things are bound to pick up. If so, I hope they're running more frequent shuttles.
Near Fisherman's Wharf there is another little outpost of Sea Vancouver Fest, perhaps the oddest of all. It features a talking crab in a cage. The crab heckles passing pedestrians. "Yeah, I know what you're thinking," says the crab. "Why is the crab talking to me? What have I done to deserve this?"
I like the crab. He's obviously put some thought into the situation.
When Steve Burgess isn't sailing the tall ships, he writes regular columns for The Tyee on his worldly wanderings and pop culture musings.