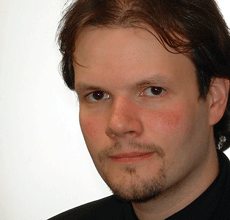 Four months ago Sean Holman made it. After years of toiling in a converted closet for poverty wages, the journalist and blogger behind Public Eye landed a job with the Vancouver Sun. It meant more resources, more money and access to the largest daily newspaper audience in the province.
In less than four months Holman broke stories about untendered ferry contracts, fudged resumes and planted radio call-ins. He was a pillar in the Sun's election coverage and his scoops on the anti-abortion musings of a federal conservative candidate made national news. But less than a month after the election, Holman abruptly resigned. His last column appeared on Saturday, June 11, By Wednesday his old website was back, and his voicemail announced a new affiliation with the commuter daily, 24 hours.
It begs the question: Why would a young reporter, who has spent his professional life climbing the ladder of political journalism, walk away from what is arguably the pinnacle of the mainstream press in British Columbia? Why would he abandon a nice salary and a large audience in order to provide 100 word blurbs for a tiny daily and run a website that earns no money?
Serial job-hopper
To answer that you have to understand that Holman has rarely stayed for long anywhere during his brief but congested professional career. Since graduating from the University of Victoria in 1999, the 29-year-old Holman has been to graduate school at Carleton (he didn't finish), freelanced for the Globe and Mail (briefly), interned with the Wall Street Journal's Dow Jones news service, and done lucrative communications work for two different B.C. government ministries. He founded, edited, and dropped an email newsletter on B.C. politics founded, edited, ran and shut down a news blog on B.C. politics, landed with the Sun, quit the Sun, resurrected the blog and became the legislative reporter for 24 hours. That's in six years. There are reporters in this province who haven't had that many jobs in 60. And in the middle of all that Holman won a Webster award (the highest award in BC journalism) for a five month, freelance investigation into Liberal insider Doug Walls.
Walls, a relative by marriage of Premier Gordon Campbell and former president of a Liberal riding association, was awarded over $60,000 in untendered contracts and had a $400,000 debt written off by the province, despite shenanigans at his bankrupt car dealership that led to criminal charges. Cabinet Minister Gordon Hogg was forced to resign in the aftermath of the scandal.
Having already abandoned grad school and a steady gig in government communications, ditching the Sun was hardly out of character for Holman. But that still doesn't explain why he did it. Before landing with the Sun, Holman scraped together $1,200 a month from a column with the Victoria Times Colonist and some work in trade publications. His research-heavy investigative style was costing him $300 a month in phone bills and he was surviving, by his own admission, "with the support of a loving and caring partner." And when he said that he works out of closet, he wasn't being facetious; his office is literally the walk-in closet in his Victoria apartment.
Why drop the Sun and go back to that?
Not the work he wants
In an interview last week in Victoria, Holman told The Tyee that the Sun's needs didn't mesh with his skills. "The Vancouver Sun needed someone who could deliver the daily story," he said. "That is not my natural strength, so at the end of the day I let them know they should find someone else."
Holman added that he isn't a very fast writer, a skill essential to daily reporting, and doing the work he does best - like the five-month investigation into Doug Walls - is impossible while producing daily copy.
In fact, the original Public Eye - an email newsletter that included Holman's reporting, news analysis and commentary by George Gibault, a former advisor to Bill Vander Zalm and Kim Campbell - died when Holman gave it up to pursue the Walls investigation full time.
There was also no guarantee that Holman would have been kept on at the Sun. He signed a temporary contract in February and his resignation made discussions about extending it moot.
Regardless of the split, Holman has nothing but praise for his erstwhile employers. "A lot of people wait years to become a political reporter," he said. Hiring me "was a great experiment for them and a real credit to [Sun editor-in-chief] Patricia Graham".
Holman's Sun colleague Vaughn Palmer had equally kind words for him. "Sean is one of the most promising young political journalists that I have come across - bright, hardworking, loves the beat. It was a pleasure working with him and I was sorry to see him go," said the longtime legislative columnist.
Regular pay was good
I can remember watching Holman on Voice of BC, Palmer's politics roundtable on Shaw TV. His lanky frame unnaturally folded into a chair, his ever-present black jacket and goatie juxtaposed against a pale and gaunt face, Holman looked like the pundit vampire.
Maybe it was my imagination, or the lighting, but he looked decidedly better fed, and better dressed, when we met last week. The jacket remained, but the face bore more flesh and colour, as if five months of respectable income had nursed him to health.
But regardless of the healthful benefits of regular pay, Holman didn't hesitate when I asked him if it was hard to walk away from the Sun. "Absolutely not, it's not hard at all," he said. "Going to the Sun was never about the pay cheque. I am who I am, someone who wants to hold government - and the opposition to account."
That line, about holding government and opposition to account, came up again and again in our conversation. It might be a throwback to his time as a government communications advisor, but when Sean Holman talks, he has a plan. There are points that he has come to make, a narrative he intends to convey. So even when I asked him about why he wants to hold government to account, he corrected me, making sure that I noted that it was government and opposition that he was holding to account.
Trained with the Liberal "mafia"
Such "talking points" aren't the only vestige of the political life left in Holman. He has the practiced ease and courtesy of a professional communicator. He joked with the waitress about the time before he ordered his drink (bar scotch, on the rocks) and told his stories in measured, polished arcs.
The first anecdote he shared was from his time at Carleton's graduate school of journalism. After spending weeks researching an internet company in California for an assignment, Holman was dismayed when the story came back with a 'C.' Undaunted, he brought it to another professor who was so impressed he sent the piece on to a former colleague at the Globe and Mail.
The Globe took the story and a couple of months later it became Holman's first big success. At this point Holman paused for emphasis before delivering the kicker: the company he was researching? Napster. It was one of the first big stories published on the company and led to a recurring role as a freelancer with the paper.
Terrie Brodie, one of Holman's editors at the Globe, remembers him as being "very aggressive with a keen interest in politics."
In fact, Holman always aimed himself single-mindedly towards politics. Before leaving for Carleton he was a member of the University of Victoria's federal Young Liberals. The group he called "the liberal mafia" included senior political aide David Basi, who is linked to the BC Rail scandal, lobbyist Erik Bornman, who is expected to be a witness in the case, and Jamie Elmhirst, the current president of the Federal Liberal Party in B.C.
"It was a real exercise in pure politics," Holman said. "When your policies are mutable it has a tendency to draw in people who are more interested in power than policy."
Holman's time with the young Liberals helped shape the way he sees politics, according to his Public Eye colleague George Gibault. "I think he got disillusioned pretty quickly with the reality of political inside party gamesmanship," he said.
But Holman himself traces the roots of his journalistic style, as an investigator and holder of accountability, even further back. "It comes from being an outsider at school," he said. "Seeing cliques get away with things. Having teachers with absolute authority let them get away with it."
Could be victim of his success
Regardless of its roots, Holman's drive to become a political reporter and investigator has certainly succeeded, by any measure. At 29, he has already had and walked away from one of the top jobs in the province - legislative correspondent for the Vancouver Sun.
In fact, Holman's speedy rise may become his worst enemy, according to Gibault. "The more successful he gets, the harder it's going to be to get people to talk to him," Gibault said. There'll be a tightening in their bellies when he gets on the phone. They'll realize that this isn't for some bake sale announcement in a small town newspaper."
But Holman isn't too concerned. If doors are being opened a little more warily for him since he took down Cabinet Minister Gordon Hogg over the Doug Walls affair, they aren't being closed just yet. He admits, though, that they're certainly being opened more warily.
As we left the hotel bar in Victoria (Holman paid the tab) we ran into a pair of government insiders having a drink. Holman stopped, introduced me, and then crowed about an internal CKNW memo he was releasing that day on Public Eye. Two weeks removed from the Sun, back slinging mud from his website, Holman's face still lit up at the pleasure of getting news first.
Richard Warnica is on staff at The Tyee.