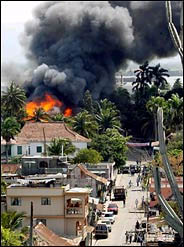 The political meltdown around a coming election in Haiti could tarnish Canada's peacekeeping reputation. Canada is taking a lead role in Haiti's reconstruction, but increasing violence and political repression is making free and fair elections impossible, critics warn.
Canada is the third largest donor to Haiti, after the United States and the European Union. Canada has contributed $180 million for Haiti's reconstruction over the next two years, including over $26 million for the upcoming elections.
But there are thousands of political prisoners in Haiti, according to journalist Kevin Pina, and Canada has the daunting task of reforming the police, court and prison systems
"The situation is horrible right now," said Pina, an American who has lived in Haiti for the past six years. "You have a situation where the majority political party is basically confronting a campaign of extermination. It's a nightmare situation and Canada is up to its neck in it."
Pina was in Vancouver on Friday to screen his documentary Haiti: The Untold Story.
Growing criticism
Activists have been crying foul ever since a coup overthrew Jean Bertrand Aristide in February 2004, but criticism is building from human rights groups and other observers as conditions in the western hemisphere's poorest country go from bad to worse.
Supporters of Aristide's Lavalas party "have been targeted in police sweeps across poor neighbourhoods of the capital where support for their party is strong," according to Amnesty International.
The human rights watchdog reported in July that Reverend Gerard Jean-Juste, an outspoken Aristide supporter, "was taken to Pétionville police station by officers from the Haitian police and the UN civilian police force, CIVPOL."
Canada has contributed 100 police officers to CIVPOL, which is in charge of training the Haitian police.
Jean-Juste remains in prison, along with other Lavalas leaders including former Prime Minister Yvon Neptune.
The Brussells-based think tank International Crisis Group has also accused the transitional government of using "its power to persecute former Lavalas leaders and supporters, such as Yvon Neptune, mostly without charge or trial."
In a written response to The Tyee, Foreign Affairs spokesperson Pamela Greenwell said, "Canada believes that in the interest of national reconciliation in Haiti, the case of former Prime Minister Neptune must continue to follow the legal course."
Neptune has been held without trial since June 2004.
When asked about Canada's ability to lobby for the release of political prisoners, Greenwell responded, "Given the weakness of Haiti's judicial system in this regard, Canada is working to help define priorities that would lead to significant improvements."
Elections at risk
Reports of political repression are casting a shadow over the December elections, which Canada, along with other countries involved in the preparations, hope to hold up as a symbol of their successful attempt to rebuild the country.
"The whole point of elections is that they are free and fair, and if they're not free and fai,r then we shouldn't be there supporting the process," said Michael Byers of UBC's Liu Institute for Global Issues.
Byers, an international law expert, said that although the UN authorized military intervention, the Security Council resolution was careful neither to condone nor condemn the coup that initiated the current crisis.
"Certainly, there's reason to be very concerned about the fact that Aristide was forced or felt it necessary to leave the country," Byers added. "He was a democratically elected president."
Democracy undone
Some critics say that countries including Canada put pressure on Haiti by withholding aid and then rushed in to support the unelected opposition when Aristide's government fell. They claim the strategy was led by the United States and backed up by Canada and France.
"(Canada's) foreign policy was in lock step with the Bush administration when they destabilized the government by freezing aid," said Pina.
Byers noted that Canada followed America's lead in getting involved in the imbroglio of post-coup Haiti.
"It is fairly clear that Canada was acting at the request of the United States, that the Canadian government saw this as an opportunity to play a constructive role in assisting our nearest ally in a situation that was considerably less controversial than Iraq," he said.
This is not Canada's first sojourn into the perpetually troubled country. Canada participated in the UN-sanctioned intervention in the mid-1990s that restored Aristide to power after he was overthrown the first time. Retired Canadian Forces Major Roy Thomas, who took part in the mission, said that venture was ill fated.
"We invested the troops, time, and money to put Aristide back in power then stood by when he was sent again into exile," said Thomas, adding that a decade later it appears, "nothing has changed."
In the lead-up to the coup that toppled Aristide, human rights abuses and deteriorating security were cited by the US, Canadian and French foreign ministers as reasons that Aristide should step down.
AI: 'a major setback'
But activists point out that human rights have taken a step backwards since Aristide's departure.
"The scale of which human rights abuses are taking place - there's no comparison," said Anthony Fenton, a Vancouver-based activist and co-author of the recently published Canada in Haiti: Waging War on the Poor Majority.
"This was a very young democracy that was overthrown and there were problems, but the seeds for democracy were being planted," said Fenton who returned from a two-week visit to the country on October 4th. "Now those seeds have been torn out and the soil has been overturned. Haiti's gone back 50 years."
A May 3rd Supreme Court decision mirrors Fenton's words: the sentences of 15 members of the military and a paramilitary organization, who had participated in a massacre of pro-Aristide villagers, were rescinded.
At the time of their convictions, in 2000, the UN called the ruling a "landmark for justice in Haiti."
Amnesty International said that the decision to overturn the sentences "constitutes a major setback in the fight against impunity in Haiti."
Thomas pointed out that Aristide's government was not without its problems, including widespread corruption and abuse of power. Still, he said, Lavalas came to power democratically.
"But this election is a bit of theatre," he said.
Reputation at risk
Pina accused Canada, along with the US, France and the UN, of supporting a transitional government of elites who are using the police, courts and prisons to repress political freedoms in order to maintain their grip on power.
"I think that ultimately (the Canadian) government's reputation is going to be irreparably harmed, irreparably tarnished when all is said and done and the truth comes to light," said Pina.
Jared Ferrie is a regular contributor to The Tyee.