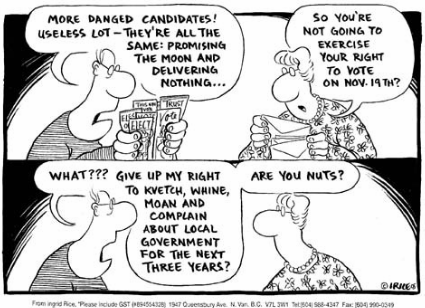 Predicting the result of the current Vancouver civic election is not easy. Most candidates are nervous and uncertain. And most civic elections are won and lost on matters fully divorced from the fine points of public policy. High voter turnout usually favours the left, but the campaign hasn't been a motivating one. A rainy day will be good for the NPA, bad for COPE and Vision.
Voters like grand narratives. During the last election, it was the alleged knifing of outgoing mayor Philip Owen by his own councillors and the populist, pro-Owen mayoral campaign of COPE's gregarious Larry "Da Vinci" Campbell.
This time, the NPA mayoral candidate is Councillor Sam Sullivan, the fresh-faced Owen protégé in the wheelchair who ran over that carpetbagger Christy Clark in the NPA nomination race. Sullivan's the underdog, and he'll get all the sympathy votes, along with the NPA's solid base of 40,000 supporters.
The split this time is on the left, between the principled and the practical. Between, among others, Vision Vancouver mayoral candidate and former COPE councillor Jim Green and COPE's Tim Louis, who has never encountered an honorable position he wouldn't gleefully use to hang himself and his colleagues.
Still, the council race isn't as fractured as it was last time, when the defunct VCA Team fielded 10 candidates and the Green party put up three. Also, eight incumbents are running for 10 council seats and incumbents are hugely favoured. Name recognition matters. The NPA has just one incumbent on its council slate; the rest are largely unknown to the general public. On Saturday, November 19, it will be difficult for the NPA to regain the civic power it has owned for most of the last 75 years.
Fearless prognostications
The results, however, will be tight. If that weren't the case, there would be no fearful pleasure in offering a reckless, semi-informed assessment of the candidates' chances. And so, allow me to introduce your next Vancouver City Council, beginning with the new mayor, followed by the councillors in order of finish and then a few other serious contenders.
Please, no wagering. And visit again on Saturday night or Sunday, to discuss the actual results and mock the frailty of my thinking.
Mayor Jim Green Like Sullivan, Green has a good narrative: the opera-loving, street-fighting Downtown Eastside activist who has come close to slaying giants. In 1990, his passionate, populist advocacy almost upset Gordon Campbell in the race for mayor. If one in 20 voters had switched to Green from Campbell, he would have won. In the 1996 provincial election, if one in 15 voters had switched, Green would have defeated Campbell in Point Grey-Vancouver. He'll benefit from the Larry Campbell halo effect and people will think it's his turn.
Green has run an effective campaign by focusing on the issues that brought COPE to power in the last election. Notwithstanding (and possibly because of) his thuggish appearance, he's more telegenic than many will acknowledge. He can turn a phrase for the TV news. He has great hats. And voters like to bring balance to the political landscape by supporting the left in civic elections when the right is in power provincially.
Sullivan's campaign lacked a galvanizing issue. Crime always has this potential, but the NPA's proposal for a crime commissioner fizzled. His attacks on the fiscal imprudence of the current council have some merit, particularly regarding the exploitation of the city's property endowment fund to develop Southeast False Creek. But they're complicated policy issues that don't resonate clearly with voters, 70 percent of which are happy with the current council's performance. On the redevelopment of Woodward's, Green has effectively defined Sullivan as equivocal.
Mostly, though, there's been a lot of "did-didn't-did-and-didn't" campaigning on both sides that leaves the average voter shrugging.
As well, while those around the likeable, decent Sullivan have proposed a strategy to "manufacture dissent", it's not a style that suits Citizen Sam. The attempts of some Green opponents to smear him may well backfire by giving Green some underdog cachet. Nor will Sullivan's chances be helped by the generally unknown slate of NPA candidates, some of which are way out of their depth on the complex range of civic issues.
Of course, NPA core support of about 40,000 is solid. Green has shown a bit of a mean streak in dismissing Sullivan, and many good Canadian voters predisposed to heroes in wheelchairs won't like that. And the mysterious mayoral campaign of James Green may siphon off votes intended for Jim, just as Andrew Thomson "Tom" Campbell's campaign drew several thousand votes from Mayor Tom Campbell more than 30 years ago.
As well, many staunch COPE supporters are upset enough with Green and his fellow Vision councillors' support for slots and the RAV line that they may vote the COPE slate and then tap Sullivan for mayor.
Rest of the council
As such, if Sullivan does find himself in the mayor's chair, he may well lead a council controlled by his political opponents.
Councillor Fred Bass (COPE) Doctor Fred will top the polls, as he did in the last election with 70,525 votes. He's principled, soft-spoken and likeable, which will trump the perception that he is, in the words of one NPA candidate, a "crazy old man". Bass will draw votes from his former Green party colleagues, from staunch COPE supporters and from middle-class West-siders who respect his deeply moral positions on smoking, gambling, transit and biking. (Yes, transit and biking are moral issues.) His controversial "Trojan horse" speech (What Fred Said) to Larry Campbell, which helped to drive the mayor and Jim Green out of COPE's house, may hurt him, but it was hardly the broadside that many made it out to be.
Councillor Peter Ladner (NPA) As a rookie NPA candidate, Ladner managed to win more votes than the veteran Sullivan. Ladner's subsequent public profile, personable style, moderate positions, and perhaps, even his curious reversal of his support for the experiment in dedicating two lanes of the Burrard Bridge to bikes, will all help him finish well ahead of all his NPA colleagues. He may beat Fred to top the council poll. He may someday be mayor.
Councillor David Cadman (COPE) His conciliation during the COPE/Vision Vancouver split, his ability to address a contentious issue without making a spectacle of himself, his profile dating back to a 1999 mayoral run and his knowledge on a wide range of civic issues should help him match his third-place 2002 finish.
Councillor Raymond Louie (Vision) There is a chance that this council will have four Chinese members. The four contenders are, themselves, proof of the political diversity of our Chinese communities. Still, Chinese voters frustrated by the fact that the third of Vancouver residents with a Chinese heritage have never been broadly represented on council will have an opportunity to make a statement by supporting them all. And the young, hardworking Louie, who has also been touted as a future mayor, will win the most votes.
Councillor Tim Louis (COPE) It's easier to support Tim Louis in opposition, given that he's so good at it. He's whip-smart, obnoxious and capable of wonderful mischief. He finished fourth in the last election, a thousand votes out of second and 8,000 votes ahead of fifth-place finisher Tim Stevenson. The at-large system, as the late Harry Rankin might have admitted, actually favours one annoying, principled thorn in the side of the establishment. His advocacy of a city-owned brothel may not help his 2005 vote totals, or those of his COPE colleagues, but at least everybody will remember his name. For many council candidates, that's all they can hope for.
Councillor George Chow (Vision) In the last election, Chow ran as an independent candidate opposed to a planned safe-injection site. The president of the Chinese Benevolent Association won 18,000 votes, more than former Socred Cabinet Minister Stephen Rogers. Now that Chow has seen the effect of the Hastings Street safe-injection site, he supports it. That Green got him to run on the Vision slate is a coup that should help all the Vision candidates.
Councillor Suzanne Anton (NPA) She's lively, hard-working and smart. In the last election, she even finished ahead of one of our most respected civic politicians, veteran Park Board Commissioner Allan DeGenova. The malaise of the NPA slate is defined by the fact that DeGenova is not running for council, where he'd almost certainly win a seat and that he publicly criticized the motives of some of NPA council candidates. If there were more Susan Antons on the NPA slate, they might have a chance.
Councillor Tim Stevenson (Vision) The former NDP MLA for Vancouver-Burrard hasn't had a high profile on council and was unable to reclaim his provincial seat from the controversial BC Liberal Lorne Mayencourt in the last provincial election. He'll get re-elected because of name recognition and support for the Vision slate, not because voters can identify him clearly with any particular passionate position on core civic issues.
Councillor Anne Roberts (COPE) Roberts may be the most active COPE councillor in working with neighbourhoods beyond the Downtown Eastside. She was involved in efforts to revitalize the area around Kingsway and Knight, and she was at the centre of opposition to the proposed Wal-mart on Southeast Marine Drive near the foot of Fraser Street. Yet, she may also be a symbol for voters who see COPE as a bunch of stubborn ideologues and that may lose her some centrist support.
Councillor Ronald Leung (NPA) His profile as a Fairchild Radio host and Ming Pao and Sing Tao newspaper columnist will help him win votes in the Chinese community. So will his opposition to gay marriage, which will appeal to often socially conservative Chinese voters. And he will be seen by the people who voted for George Chow in the last election as a bulwark against silly coddling of drug addicts. That's enough to get him the 10th spot.
Maybe next time?
The last three council positions are very hard to predict. Just 3,000 votes separated ninth from 14th in the last civic election. Which is, of course, a way of making excuses in advance for my failed predictions. If Sullivan wins the mayoral race, they could all go to NPA candidates, which would give the NPA control of council.
The closeness of the race for the last few positions also illustrates a potential mistake many voters make at the polls. You don't have to vote for 10 candidates, and if you vote for people you are ambivalent about to fill out the ballot, you may effectively be voting against someone you strongly support. This matters particularly for voters who pick and choose across the political spectrum, because it's these afterthought votes that may ultimately determine who controls city council.
My excursion into bet-hedging and voting advice now completed, here are a few candidates, from a generally strong slate of council choices, who will have to content themselves with "almost".
B.C. Lee (NPA) This personable immigrant from Taiwan via New York finished 500 votes away from a council seat in the last election and that's likely to happen again, unless George Chow's reversal on the safe injection site or Ronald Leung's opposition to gay marriage cost them dearly.
Heather Deal (Vision) Smart, reasonable and holds the advantage of having served for three years on the park board, where she topped the polls in the last election. She could win a seat if Vision manages to get strong support from moderate voters who pick from all three slates.
Kim Capri (NPA) NPA insiders tout Capri as a capable potential winner, but here's a confession from a fairly keen observer of this election: I've never heard a word she's said. She'll make council only if the NPA wins control.
Colleen Hardwick Nystedt (NPA) The daughter of late TEAM alderman and UBC planning Professor Walter Hardwick, Nystedt has planning and politics in her genes, but instead, spent 20 years in the film business as a successful producer. She could slide up into the 10th spot if the centre-left vote collapses.
Ellen Woodsworth (COPE) One of the nicest people you could hope to meet has not effectively identified herself with any strong centrist voter concern during her three years on council. And so she will go quietly into the political night.
Charles Campbell is a contributing editor to The Tyee who votes early and often.
As the civic elections unfold around BC, The Tyee invites you to weigh in by posting comments below. Look for regular Tyee contributors to post short reports here as well.
(If you haven't already registered to comment, it's easily done here.)