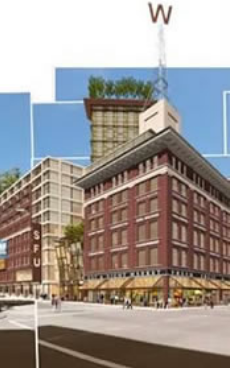 Sam Sullivan is feeling great. Relaxing in his city hall office after a long council debate, he's still riding high on his stunning NPA nomination victory over Christy Clark.
"It almost killed me, I lost a lot of weight", he says between bites of chicken and feta pizza. "But as Nietzsche said, that which doesn't kill you, makes you stronger."
While discussing his chances of becoming Vancouver's next mayor, he can't resist a cheeky poke at his Vision Vancouver challenger.
"I think he should vote for me, to save his legacy," Sullivan says with a Cheshire cat grin. "I will be the one that delivers Jim Green as the hero of this era."
The legacy Sullivan speaks of is Woodward's, the massive market/social housing development project many are betting will help transform Vancouver's drug-strangled Downtown Eastside.
Both of Vancouver's mayoral candidates have staked political careers on policies for improving Canada's poorest neighbourhood. But if you want a taste on how they differ in approach, just raise the example of Woodward's.
Sullivan portrays himself as the cool headed voice of fiscal restraint. Green says Sullivan would bungle, maybe even kill, a bold project carefully assembled.
COPE's priority project
First established at Hastings and Abbott in 1903, Woodward's department store closed in 1993, with homeless squatters occupying the vacant building and demanding social housing.
In March 2001, the province purchased the building for $22 million, intending to develop over 200 co-operative housing units, with a large commercial space and SFU's School for Contemporary Arts.
But the project couldn't get off the ground and was shelved by the new BC Liberal government in early 2002.
In March 2003, Vancouver's COPE lead city council purchased Woodward's from the province for roughly $5 million. Green, who'd been part of the previous redevelopment attempt, would get another chance to steer Woodward's to success.
Woodward's became the current council's priority project, complete with special guiding principles, in order to catalyze revitalization in Gastown, Chinatown, and the DTES.
Combining 500 market condos and 200 social housing units with commercial and retail space, plus city owned space for non-profit groups, along with SFU's new School for Contemporary Arts, the project is ambitiously big and diverse.
The right balance?
Yet some have questioned the wisdom of putting more social housing in a neighborhood with such high drug addiction rates, thinking that those with drug problems would be better to escape the enabling factor of a concentrated addict community.
At times, Sullivan and his NPA colleague Peter Ladner have argued the planned ratio of social housing in the area should at least be reduced to tip the scales and infuse the neighborhood with higher incomes, thus boosting the whole community's fortunes.
But another area developer, Robert Fung of The Salient Group, says drugs have nothing to do with low-income housing.
Having 200 social housing units in Woodward's is no liability, "I think it adds strength," says Fung, who is also a director of the Laurier Institution, a non-profit organization which fosters debate on the economic impacts/benefits of cross-cultural diversity.
"Woodward's is not a force of change itself; it is another component in the change already happening in the area. We have already seen some balancing out (of market housing) there," Fung says.
Fung believes Vancouver's mixed income development is the leading model of urban planning in North America, with the city now getting global attention for its functional diversity.
"Developing any single thing creates a problem. If it's just low income housing, it can't support retailers in the area. Just high income makes ghettoes for the wealthy, and the exclusion leads to more imbalance."
"In terms of having 200 social units with 500 market units, I don't have a single fear at all," Fung concludes.
And the man with arguably the most riding on Woodward's has equal confidence.
"I think this project is as close to a dream as we could possibly get," says Green, reached on his cell phone en route to a council meeting. "It has the power to transform downtown Vancouver by creating economic development, services, employment, and housing. I can't think of another project like this in the world."
$13 million over
Lately, Sullivan has found ammunition for criticism in Woodward's budget overruns of about $30 million, largely due to rising construction costs and doubling of social housing units from the original plan of 100 to 200. The city's portion of overrun costs is about $13 million, and Sullivan thinks it could have been avoided.
"I've always said that Woodward's could be this council's shining glorious legacy; or it could be its fast ferry," says Sullivan, before returning to council chambers after his dinner break. "They (COPE) have taken a lot of risk for the public on this. I never believed government should take business risks."
He also questions whether Vancouver's hot condo market will continue to absorb new buildings until the Woodward's 2009 finish date, and says council has saddled developer Westbank Projects/Peterson Investment Group with tight profit margins plus too much social baggage and risk.
"I hope the market works for Woodward's," he says with a smile, pausing and raising an eyebrow. "But, ironically, if it doesn't, it could catalyze the opposite, disastrous unintended effect in the neighborhood."
Yet, even with all his cold shower sentiments for Woodward's, Sullivan says, as mayor, he would support it.
"Am I happy the public has lost money? Am I happy my mic was cut off six times while I was asking questions about it in council? Am I happy it's gone up to $280 million? No, but I will support it because council has made the decision. I compare it to the Olympics. The new council should respect the previous achievements of the last council."
Sullivan's second guesses
But Green isn't buying Sullivan's new attitude.
"He voted against every aspect of it," says Green, audibly seething with exasperation. "He voted against SFU, daycare, social housing, 500 market units, retail, and employment. Now he says he supports it? That's not how it works, people care about your record."
And although costs for the project have increased, Green claims the city is shielded from risk by their part of the deal, and the developer can easily handle its end.
"Ian Gillespie would not be onboard if he didn't have absolute certainty of success for Westbank in this project," Green affirms. "We had ten developers who wanted to be involved. W e didn't shove this down anyone's throat."
With about a month before city elections, Green argues Woodward's success hinges on certainty and speed of execution, suggesting Sullivan will unravel the project if he wins the mayor's seat.
"He asked city staff if he could get a (NPA) majority in council, can he kill it (Woodward's)." Green says. "Everyone is on side and this doesn't need to be picked apart for political reasons."
But Sullivan says he's being unfairly portrayed as an opponent of Woodward's, when he's really just looking to keep costs in check.
"I asked if we (NPA) got a majority what could we do to revise it. And they (city staff) told me three things," Sullivan countered.
One of those possible revisions would be cutting back social housing, another is reducing the amount of commercial space, and the third is capitalizing a portion of the city owned space, which is being offered to non-profit groups.
But Sullivan says he no longer favours cutting social housing after listening to city staff's recommendations.
"I've lightened up on that. They said we wouldn't really save money after putting the housing elsewhere anyway. So, I've pretty much given up on everything except reducing the city's space (for non-profits) by a third."
Hot button issue
Now, with campaign rhetoric for the Nov. 19 election in high gear, both mayoral candidates are suggesting the other could doom Woodward's if given the chance.
Sullivan calls Green a reckless spender who can't manage development, and Green says Sullivan is a misguided flip-flopper with no understanding of urban planning.
"He (Green) lacks the good sense that tax dollars come from hard working people who want to see value for money, and he loses phenomenal amounts of money quickly," Sullivan said, pointing to Green's role in the previous Woodward's development attempt and the Four Corners Community Savings Bank.
Green counters that Four Corners, a community bank he started for low-income earners in the DTES, actually fulfilled its objectives and was on the verge of turning around when a new provincial government canned it.
"If he (Sullivan) says the city is at risk for Woodward's and I'm running things into the ground, do you call that (my) attracting $250 million in investment downtown? "He is misguided and illogical and in many ways covering up," Green says. "Look, I don't want to be negative, but his judgment is not something I'd support."
Stay tuned; the mudslinging is just beginning.
Sam Cooper is on staff of The Tyee.