On Woodward's 10th floor, Dan Grosso prepares his final potful of pancake batter of the morning before he plunges in a power mixer of his own making: a paint-stirring fan powered by a hand drill.
A flapjack maverick who decades ago cooked for oil rig workers in Alberta, this 73-year-old has served free breakfast to dozens of fellow Woodward's residents weekly in the five years since he moved into the social housing complex.
"I've always enjoyed cooking," he quips. "I guess it's the ability to turn out things. I enjoy working with food and experimenting with it. Today we have over 100,000 pancakes built! Last year alone we did 8,100. That's a lot of food we're turning out."
Grosso calls his pancake program the "Three Amigos." Signs in the elevators invite residents from the building's below-market rent units to come for weekly breakfast. Near the batter-mixing station is James Austin, another of the amigos, who goes by the nickname Ginger. Austin flips flapjacks on an electric griddle for the eight residents queued at the serving window.
"We're all out of pancakes," he jokes to the dismay of the growing crowd. "No more today." He's just teasing -- there's still an hour to go before the serving ends.
Austin says he likes to help serve breakfast to pay-it-forward from the years before he moved into Woodward's, when he lived in one of the substandard single resident occupancy hotels that dot the Downtown Eastside.
"After many years -- not necessarily on the street but still struggling -- of people helping me when I was in real need, now I'm in a good place," he says. "I can give that back with a smile."
Woodward's redevelopment project was one of the most celebrated, and controversial, legacies of late Vancouver councillor Jim Green, who died of cancer in 2012. Green's previous decades working with the now-defunct Downtown Eastside Residents Association, and later with the ruling civic Vision Vancouver party, is credited with creating nearly 1,000 below-market housing units in the city.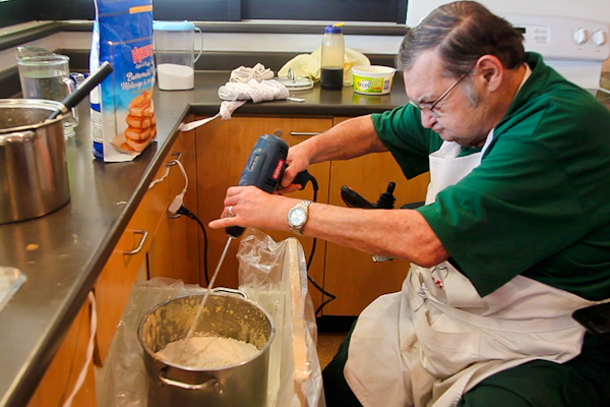 But Woodward's has also become a lightning rod for criticism among those who blame it for increases in both rents and homelessness in the surrounding area, trends which others blame on broader urban trends.
For several of its low-income residents who spoke to Tyee Solutions Society, however, Woodward's also represents stability, trust in neighbours, and community.
Born from protest
The project came into being after the 2002 "Woodward's Squat," a three-month-long occupation of the long-vacant site of the former Woodward's department store to demand more social housing. Under pressure from anti-poverty activists, and the election of the Coalition of Progressive Electors (COPE) to city hall, the City bought the land from the province in 2003, launched a consultation process and ultimately engaged private partners to redevelop the site.
The Woodward's model would differ from most previous social housing in the city, which had either been resident-run co-operatives or purely social housing tied to income.
Rooted in the New Urbanism school of thought, which tends to favour higher income mixes in development, the partners produced a design in which Woodward's would contribute 200 below-market affordable units to city stock. But more than twice as many (536) private market condominiums would occupy two other towers that make up the complex.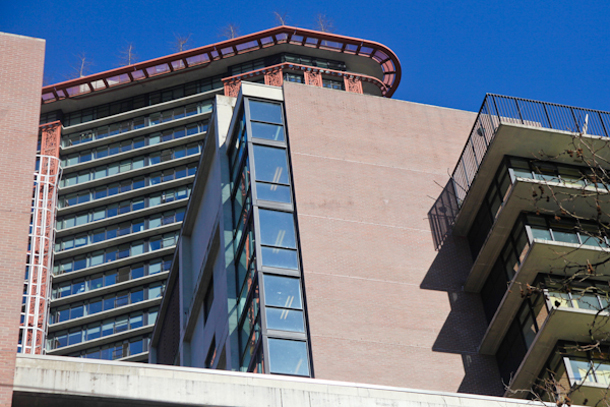 Of the affordable units, nearly two-thirds are segregated from their more affluent neighbours in a separate building managed by the nonprofit Portland Hotel Society. Those 125 beds rent for a flat $375 a month, equivalent to social assistance shelter rates. The remaining 75 rent-geared-to-income units occupy their own floors in the neighbouring, largely market towers.
By the time the complex opened in 2010, its construction cost would exceed $350 million.
A sense of trust
The day of the 2010 Winter Olympics opening ceremonies, with thousands of athletes and journalists jamming the city for the event and hundreds more in the streets protesting over housing, poverty and Indigenous rights, was also the day that Stephanie (she asked that we only publish her first name) moved in to Woodward's.
Before finding a home in the Portland Hotel Society-run part of Woodward's, Stephanie lived in the same non-profit's original Old Portland Hotel. Prior to that she had spent several months in the emergency shelters after a period in Coquitlam's Riverview mental health facility.
"One of the reasons why I moved into the Portland was because it took people in who were some of the hardest of the hardest to house," she said. "At the time, I was not accepted in a lot of other housing agencies."
She made friends quickly though, and thanks to her vivid memory wrote birthday cards for the other residents (a tradition she's tried to maintain in the new Portland tower at Woodward's, although she admits she can't keep track of all its hundreds of residents). The apartment beside Stephanie's belongs to her closest friend of 22 years, Tracy, whom she met in the Old Portland Hotel and moved with to Woodward's when it opened.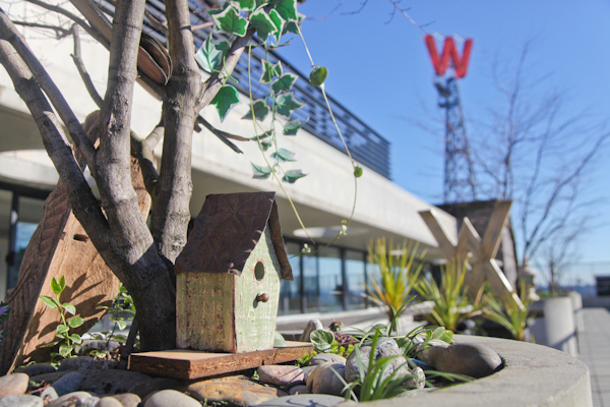 "You get to know your neighbours," Stephanie says of her new digs. "People don't fear their neighbours, to have their doors open. I'll sometimes go sit in Tracy's room while my door is open. Nobody to this day has walked in there and taken anything."
The sense of trust isn't unique to Stephanie. Another resident, who moved in on a different floor (and asked to remain anonymous) after five years in a single-resident-occupancy hotel room with a shared bathroom and kitchen, found the change transformative.
Conditions in the hotel were so bad, he recalled, that he often slept on the street anyway to avoid the bug and rat infestations, and because so many of his friends lived outside. He used his SRO room more as a storage place for his few possessions.
The move into Woodward's, the 34-year-old said, "totally changed my life. I didn't have to fight anymore. I wasn't sitting in my room listening to people conspiring to kill other people, making weapons, thinking they were going to come for me.
"Now I leave my door open and nobody will go into my room. I have my own space. I cook now, and cook whatever I want."
A veteran of the 92-day Woodward's Squat in 2002 -- he said he was arrested four times during that occupation -- he was eventually offered a suite in the redeveloped building on the same floor as a number of other squatters.
Room checks
Karen Ward moved into Woodward's in early 2010, after living in what she describes as a "shithole" SRO in East Vancouver. On top of the cockroaches and bedbugs that infested the place, and shared co-ed bathrooms with little privacy, the adjacent train tracks were so noisy she could tell the time based on the type of railcars passing.
The racket kept her from sleeping, and as she grew more and more exhausted her mental health condition worsened severely.
"It was a nightmare," she recalls. "I couldn't sleep unless I drank a bunch of wine. I was awake 20 hours a day, living with a hot plate, the place was infested with bugs, for $500 a month. My state of mind was terrible."
When Mental Health Services offered her a place on its floor of the newly opened Woodward's complex at the welfare shelter rate of $375, she felt fortunate to have a door she could lock and her own bathroom.
"I knew how lucky I was to get into Woodward's, to get away from that," the 41-year-old artist says. "For the first month, I just slept... I was catching up on my sleep and I could sleep there.
"I hadn't had a stove for eight years. I was scared of the kitchen at first because I didn't want to screw it up!"
But Ward, who is heavily involved in the nearby Gallery Gachet artist-run centre, said Woodward's brings its own challenges as a place to live.
While several residents told Tyee Solutions Society they appreciated receiving their medication from Portland Hotel Society staff, others including Ward, felt unfairly pushed to give up their own routines, pharmacists and doctors. To her, the pressure represents a loss of autonomy and independence for people living with mental illness.
Likewise, she bristles at room checks by Society staff, which she calls frequent and "super intrusive" alongside ubiquitous security cameras. Ward complains that the staff often don't wait for a response before entering a resident's units. She says she's been criticized for folding her murphy bed away to make room in her 350-sq. ft. suite for art projects deemed "too messy."
"Some people do feel that," acknowledges longtime building manager Jerry Abbott-Brown. He explained that every resident must be seen by staff -- either in-person, or on a security camera -- at least once every 24 hours. He said staff try to phone first, and if they don't answer will knock and enter if there's still no response.
"But we save people's lives by doing it. We've saved seven to eight lives already through room checks."
One of those was Dan Grosso, who four years ago got blood poisoning from a foot infection and was found only after a routine room check. His leg had to be amputated at the hospital. "If it wasn't for Jerry here, I wouldn't be alive today," Grosso said, "because I had five days to live according to the doctors when they took my leg."
Ward doesn't disagree that some residents need, and want, more intensive supervision and care. "As a mental health advocate," she says, "it's all about choice, making your own decisions, and not having them made for you. Maybe a better model would be something more transitional, where somebody could be in supportive housing until you've got the discipline to take better care of yourself."
The Woodward's effect
A more worrying aspect of the redevelopment, Ward argues, is its impact on the surrounding neighbourhood, where low-income residents increasingly find themselves priced out of what once was Vancouver's Skid Row.
In 2013, the Carnegie Community Action Project, perhaps the most visible descendant of DERA's blend of fiery street activism, advocacy and research, called Woodward's a "gentrification bomb." The group surveyed the Downtown Eastside's remaining single SROs, concluding that since Woodward's opening the neighbourhood had lost 426 rooms affordable for people receiving the $375 monthly social assistance shelter allowance. Some rooms were gone; others charged $500 a month.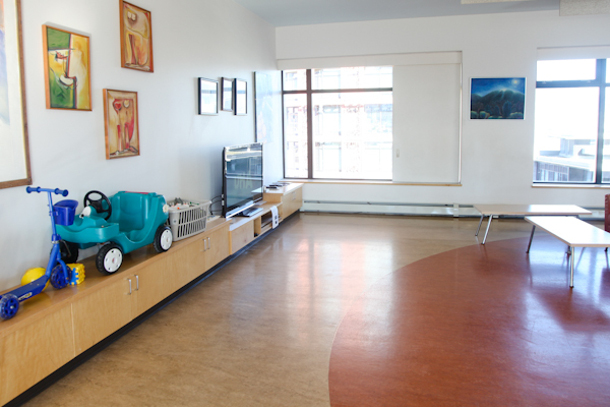 Those figures are disputed. The neighbourhood already has 6,700 social housing units, the Vancouver Sun reported last year, and the city's new local area plan proposes 6,000 more over three decades. The City most recently budgeted $1 million for renovations to the 100-units of supportive housing in the Bosman Hotel, 10 of those at welfare rates.
Not only have rents risen nearby, but there's been an influx of cafes and merchants catering to richer clientele, including those in Woodward's two condominium towers. And Ward sees signs of what she calls the broader "Woodward's effect."
"It's based on the bizarre theory that if you put enough rich people in with the poor people, the poor people will start to act like rich people," Ward argues. "Which is not true. What it means is that my neighbours will be harassed by private security guards whenever they go into that atrium or outside for any length of time.
"These are very subtle things, but you're very acutely aware of them when you live down here. It's very alienating."
Breakfast together
Up on the 10th floor kitchen, the "Three Amigos" are finishing off the last of the pancake batter when Ward pops by to help clean up. Such resident-run programs are an increasingly popular antidote to alienation among Woodward's low-income inhabitants, she says. "It's interesting that pancakes bring us all together!"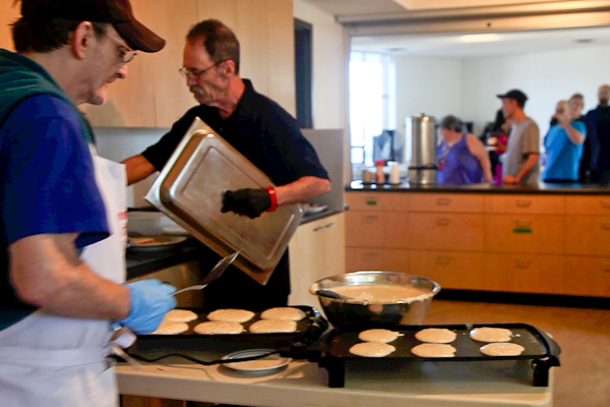 One of the diners is Stephanie, who has found another way to build community.
She loves numbers, and since moving into Woodward's has helped other low-income residents and Portland Hotel Society clients to prepare their annual tax forms. She's also enrolled in a high school math course, "just to give me something to do," she says.
Stephanie says she could not have reached where she is without decent housing. "We need social housing," she says after a moment of reflection, "to make friends and have a sense of safety and security."
The Jim Green Memorial Lecture: Building a Social Housing Legacy for the Future takes place this Thursday, Feb. 26 in downtown Vancouver. The forum, organized by Councillor Geoff Meggs and hosted by SFU's Vancity Office of Community Engagement, will include a panel discussion with diverse voices on how Vancouver can achieve affordability and social housing objectives in the years to come. More information here.