[Editor's note: This piece contains examples of transphobic, racist, antisemitic and anti-LBGTQ2S+ messages seen at the '1 Million March 4 Children' rallies held across Canada last week. It may be triggering to some readers.]
It was advertised as a protest focused on children and families. But at a rally in Vancouver, an antisemitic slur was hurled. In Ottawa, a flag with a Nazi swastika was displayed at a park. And at protests across Canada, protest signs equated education and advocacy about LGBTQ2S+ issues with pedophilia.
Last week, protests co-ordinated under the banner of "1 Million March 4 Children" took place in cities and towns across Canada. In many cities, including Vancouver, those protests were met and outnumbered by counter-protests supporting the rights of queer people, especially trans youth.
Parents and political candidates who oppose sexual orientation and gender identity being taught in schools have been a vocal part of elections and debates since the 2018 municipal elections in B.C., two years after the province required that public and independent schools include gender identity and sexual orientation in their anti-bullying policies.
The 2022 school board elections saw even more "parents' rights" candidates running across B.C.; most were not elected.
But extremism experts say they've seen Canada's far-right "freedom convoy" movement take an active role in mobilizing people across the country to protest sex education in schools.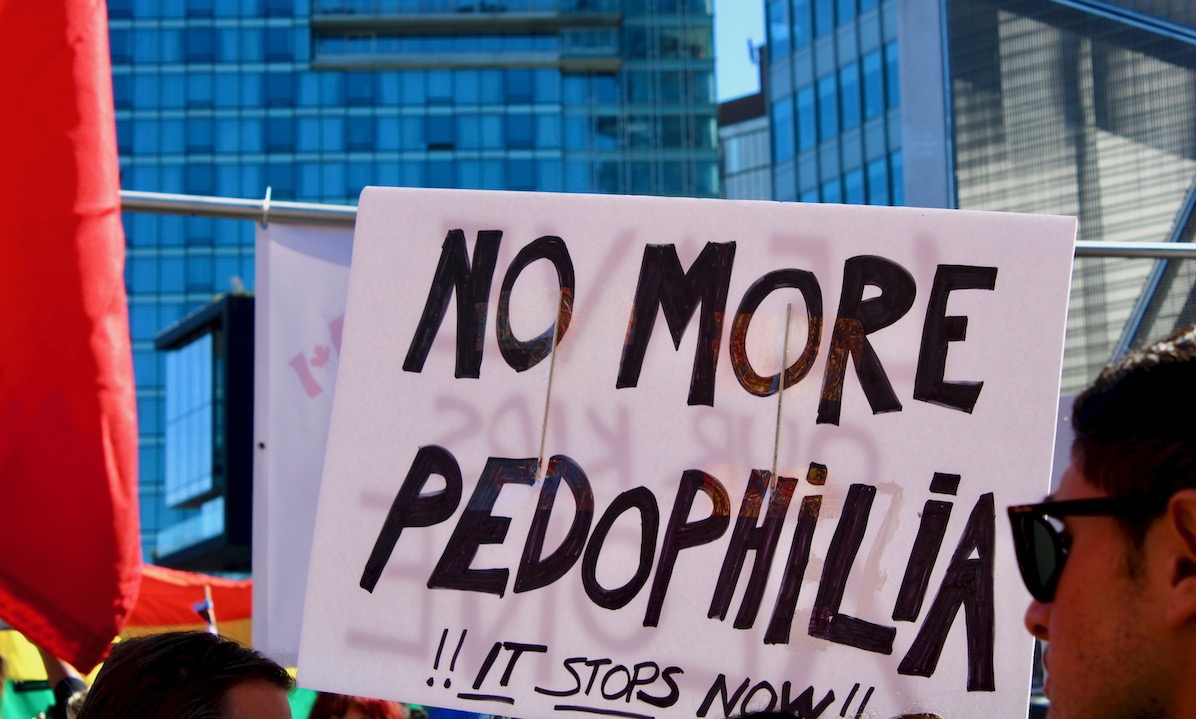 "When they're talking about parental rights, they don't want the kinds of materials which say that it is OK to be LGBTQ2S+ or queer in schools — that is what they're trying to protect their children from," said Evan Balgord, executive director of the Canadian Anti-Hate Network, an organization that researches hate groups and hate crimes.
"We have a secular school system in British Columbia where the curriculum is set by the provincial government, and kids have a right to health and human rights education," Balgord added.
Since the election of Donald Trump as U.S. president in 2016, the far right has become more visible and more emboldened and has had increasing influence in politics in North America. This includes resurfacing and introducing legislation for issues that have been important to social conservatives for decades: abortion, sex education, access to birth control and gender-affirming care for trans people.
The American Civil Liberties Union is currently tracking nearly 500 proposed laws the organization says would cause harm to LGBTQ2S+ people. The laws range from an attempt to ban drag performances in Texas to prohibiting SOGI education in Florida and attempts by 20 states to block gender-affirming care for minors.
Right-leaning governments and parties in Canada are starting to follow this trend: this year, both Saskatchewan and New Brunswick introduced legislation that requires parental consent before a student under 16 can be referred to by another name or pronoun in the classroom.
At a recent party convention, the federal Conservatives adopted a motion to prevent young people from accessing gender-affirming care.
After the "1 Million March" protest last week, Conservative Leader Pierre Poilievre said that Prime Minister Justin Trudeau was "demonizing concerned parents" when Trudeau called out the ugly messages on display at the march.
In B.C., the NDP, the Green Party and BC United released statements in support of SOGI. BC United Leader Kevin Falcon declined to comment when asked whether the right-leaning party would consider legislation similar to what Saskatchewan and New Brunswick put in place but said he wanted to find a way to unite teachers and concerned parents.
BC Conservative party Leader John Rustad said that, if elected, his party would end sexual orientation and gender identity education resources in B.C. schools.
"The most frightening thing I've seen in the last 30 years is Saskatchewan threatening to use the notwithstanding clause against trans children," said barbara findlay, a lawyer and longtime LGBTQ2S+ advocate in B.C., who participated in the counter-protest.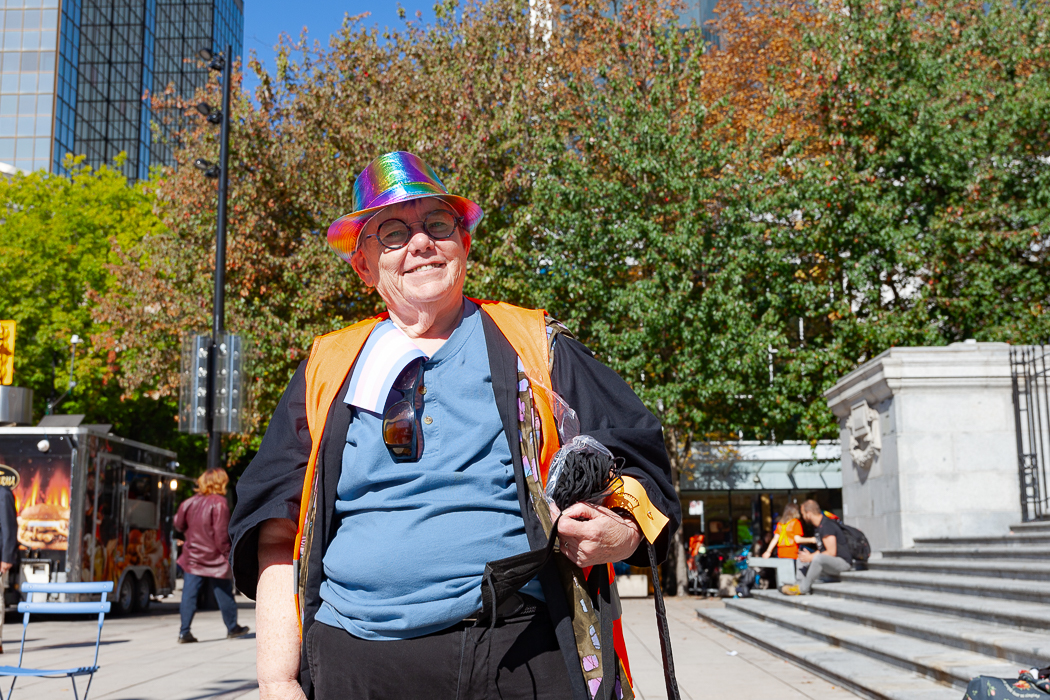 Saskatchewan Premier Scott Moe has said he'd use the notwithstanding clause to override Canadian Charter rights that would be in conflict with the province's requirement to receive parental permission for transgender and non-binary students under 16 to use different names or pronouns at school.
"Schools are, have always been and must always continue to be a safe space for all kids, including trans kids. It is often the case that kids will tell their teacher or tell the counsellor something that they don't yet feel safe enough to tell their parents," findlay said.
Here's what we noticed when we covered the protests on Sept. 20, and why experts say this movement should be carefully monitored and opposed in Canada.
Opposition to SOGI
Roughly 100 people gathered outside Vancouver City Hall at 9 a.m. on Wednesday, Sept. 20, to protest the presence of sexual orientation and gender identity accommodations and lesson plans in B.C. schools, colloquially referred to as SOGI.
There was no set agenda, with speakers mounting the steps on the city hall's north side to speak at will. This included former BC Green Party leader Stuart Parker, who resigned as BC Ecosocialist interim leader in 2020 after accusations of transphobia, and Karin Litzcke, a failed Vancouver school trustee and BC Conservative party candidate who was vocal about her anti-trans views in both campaigns. Zelda Levine, who also ran for school board on an anti-trans platform, was also present holding a "No child is trans" sign.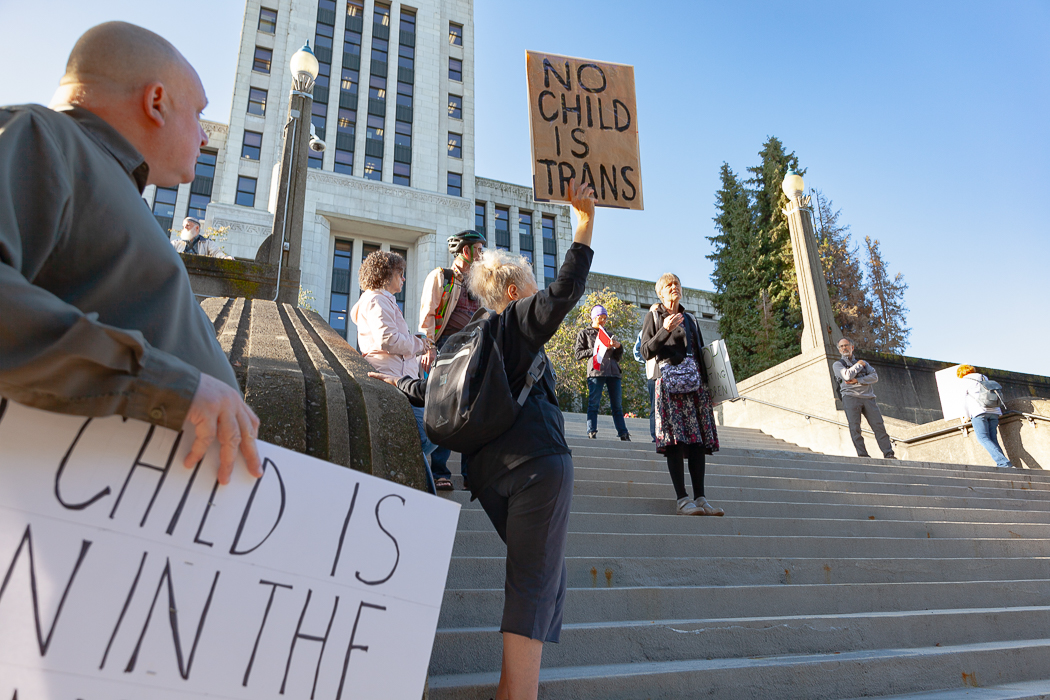 In 2016 the Education Ministry required all 60 public school districts and all independent schools to update their anti-bullying policies to include sexual orientation and gender identity, aligning with a recent change to the BC Human Rights Code.
The ministry also released SOGI 123 education resources in 2016. Developed in collaboration with the ARC Foundation and most B.C. school districts, SOGI 123 provides optional queer and trans-affirming lesson plans, policy templates and professional development materials for schools. The ministry encourages its use in schools, but it is not mandatory.
SOGI 123 does not form part of the provincial school curriculum, which is available online. Nor is SOGI 123 sexual health education, which parents in B.C. can choose to opt out of for their children.
Detractors, which have included many school trustee candidates in 2018 and 2022 elections, claim that these policy changes and optional education resources violate "parents' rights" and that learning about the sexual health and the existence of LGBTQ2S+ people "sexualizes" children.
However, the majority of candidates running on "parents' rights" platforms in 2022 lost their races, indicating that most voters — and most parents — are not persuaded by these arguments.
Moreover, data shows that comprehensive sex education improves decision-making outcomes for youth when it comes to sexual activity, and age-appropriate education can help protect youth from predators.
But it's not just trustee candidates speaking out against LGBTQ2S+ accommodations and education in schools.
Many of the opponents share right-wing evangelical Christian values or are connected to organizations that do.
Kari Simpson, president of the Langley-based online conservative Christian Culture Guard site, has been a vocal anti-SOGI and anti-sex-ed protester in B.C. for over a decade.
Simpson invited members of the Hells Angels, an organization known for its racist beliefs and ties to the illegal drug trade, to an anti-SOGI protest in 2018.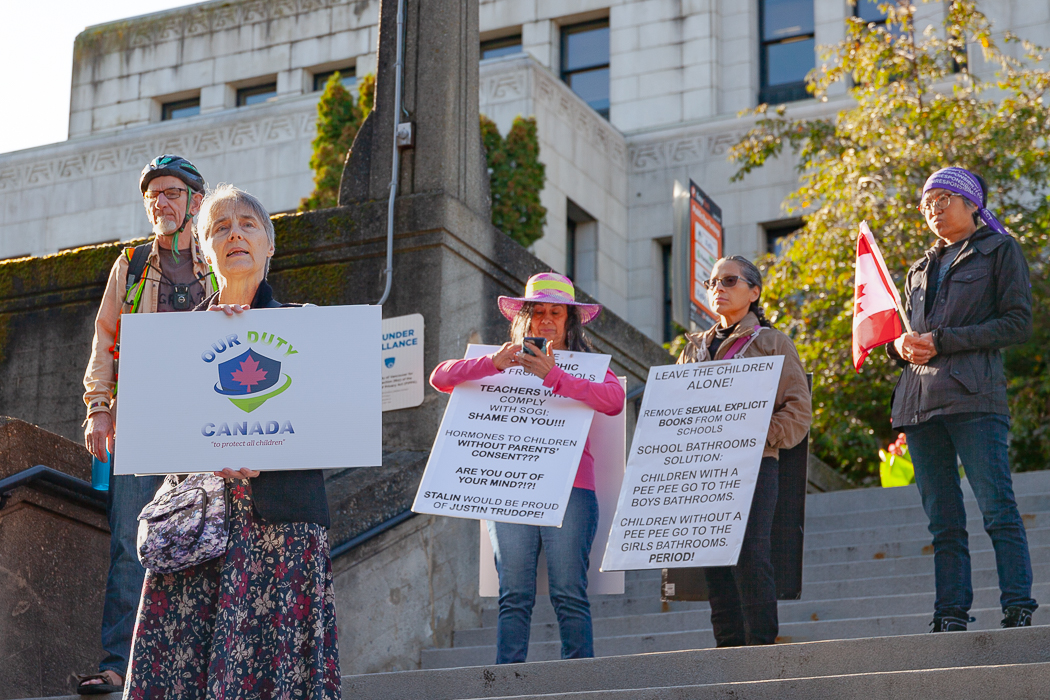 In 2019 Jenn Smith, a trans person, gave a series of talks against SOGI that were attended by members of the anti-immigrant group Soldiers of Odin and the neo-fascist group the Proud Boys.
Tanya Gaw, who attends the same church as Simpson, is the head of Action4Canada, an evangelical Christian group that campaigns against SOGI content and sex ed in schools, as well as vaccine mandates and Islam. Gaw criticized some of the organizers of Wednesday's protests because they are Muslim.
Lately, Action4Canada has been trying to ban school library books with gender and sexuality themes. They were banned from addressing the Mission school board for a year following a presentation the board chair said contained "hateful propaganda." The group also falsely accused the Chilliwack school district of stocking child pornography in its libraries — an allegation the RCMP refuted after investigating.
Homophobic messages, anti-trans myths
Some participants at both the 9 a.m. anti-SOGI rally at Vancouver City Hall and the 1 p.m. anti-SOGI march downtown said they didn't oppose LGBTQ2S+ people, or trans adults choosing gender-affirming medical care. Some attendees even flew rainbow flags.
But others made it clear they didn't want to see any pro-LGBTQ2S+ symbols, such as Pride flags, inside B.C. schools.
Some protesters even claimed teachers were selecting students for gender-affirming surgeries. Only a trans youth, their guardians and medical professionals are involved in gender-affirming care plans.
Signs protesting "pedophilia" were also on display during the Vancouver march. At the event in Calgary, a video posted to social media showed a young boy onstage telling participants "the gays are psychopaths" and "the gays are disgusting."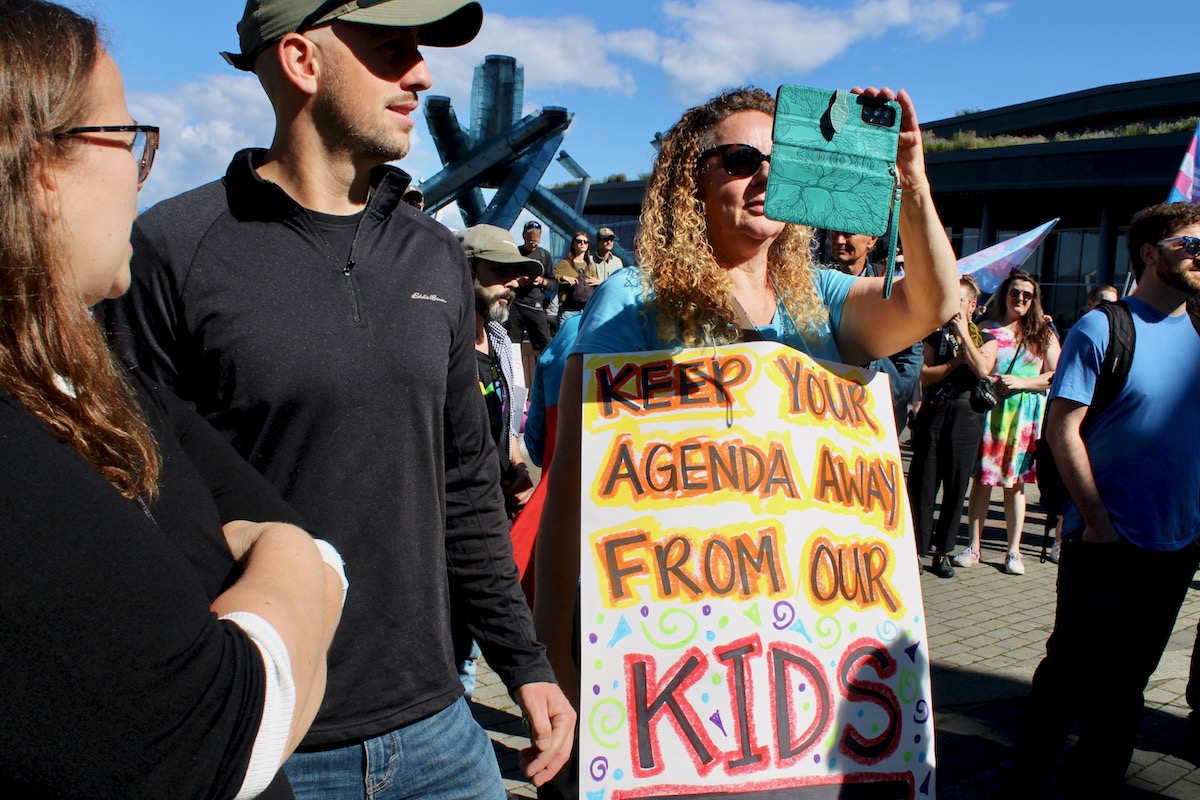 Stoking fear that LGBTQ2S+ people are sexual predators is a homophobic trope with a very long history, but there has been a renewed push from the American right to imply that LGBTQ2S+ people, teachers or parents who allow their children to express their gender identity are predators or enablers of sexual abuse.
Some rally participants were uncomfortable with the rampant homophobia on display and attempted to narrow their objections. Some voiced fears that being trans is a mental illness and said young people need counselling. Former BC Green Party leader Stuart Parker said that if young people aren't exposed to information about being trans, "they will grow up to be gay and lesbian adults."
Numerous human rights and LGBTQ2S+ advocacy groups have written about why these arguments aren't supported by medical studies or the real-life experience of LGBTQ2S+ people.
Sexual orientation differs from gender identity; for example, people who are trans can be gay, straight or bisexual. There is no evidence that this differs for youth and adults.
Racist slurs and images
The convoy protests that took over Ottawa in early 2022 were initially billed as being organized by truck drivers who were angry about COVID-19 vaccine mandates.
But reporters and Ottawa residents soon began to observe hate symbols such as swastikas and Confederate flags on display. Several of the key organizers had a history of making racist and white nationalist statements.
Racist slurs and images were not common at last week's rallies, but they were there.
As the 9 a.m. rally at Vancouver City Hall got underway, for example, a man called out an antisemitic statement accusing Jewish people of sexually abusing children. No organizer or participant said anything about the comment and there was no attempt to eject the man from the event.
As the rally was underway in Ottawa, a flag that included a swastika was hung at Confederation Park on the National Aboriginal Veterans Monument. Ottawa police later said they had made two arrests for inciting hatred.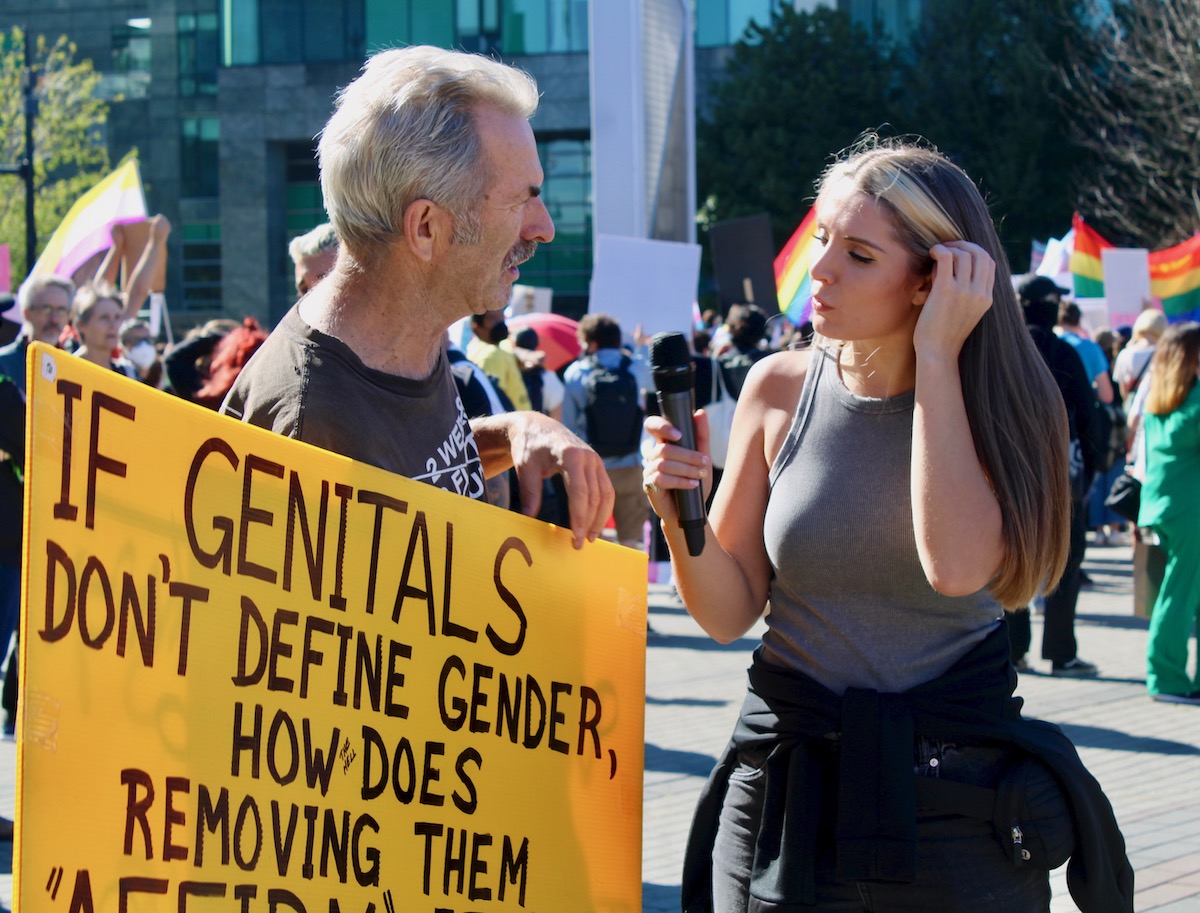 Far-right media personality Lauren Southern attended the Vancouver rally and counter-protest. Southern was banned from Patreon and GoFundMe after taking part in an effort to block rescue ships from reaching stranded migrants in the Mediterranean.
Convoy links, conspiracy theories
Stand United, a local Vancouver group that was active in organizing convoy protests in the Metro Vancouver area, is listed as the organizer of Vancouver's protest on a Facebook poster advertising the event.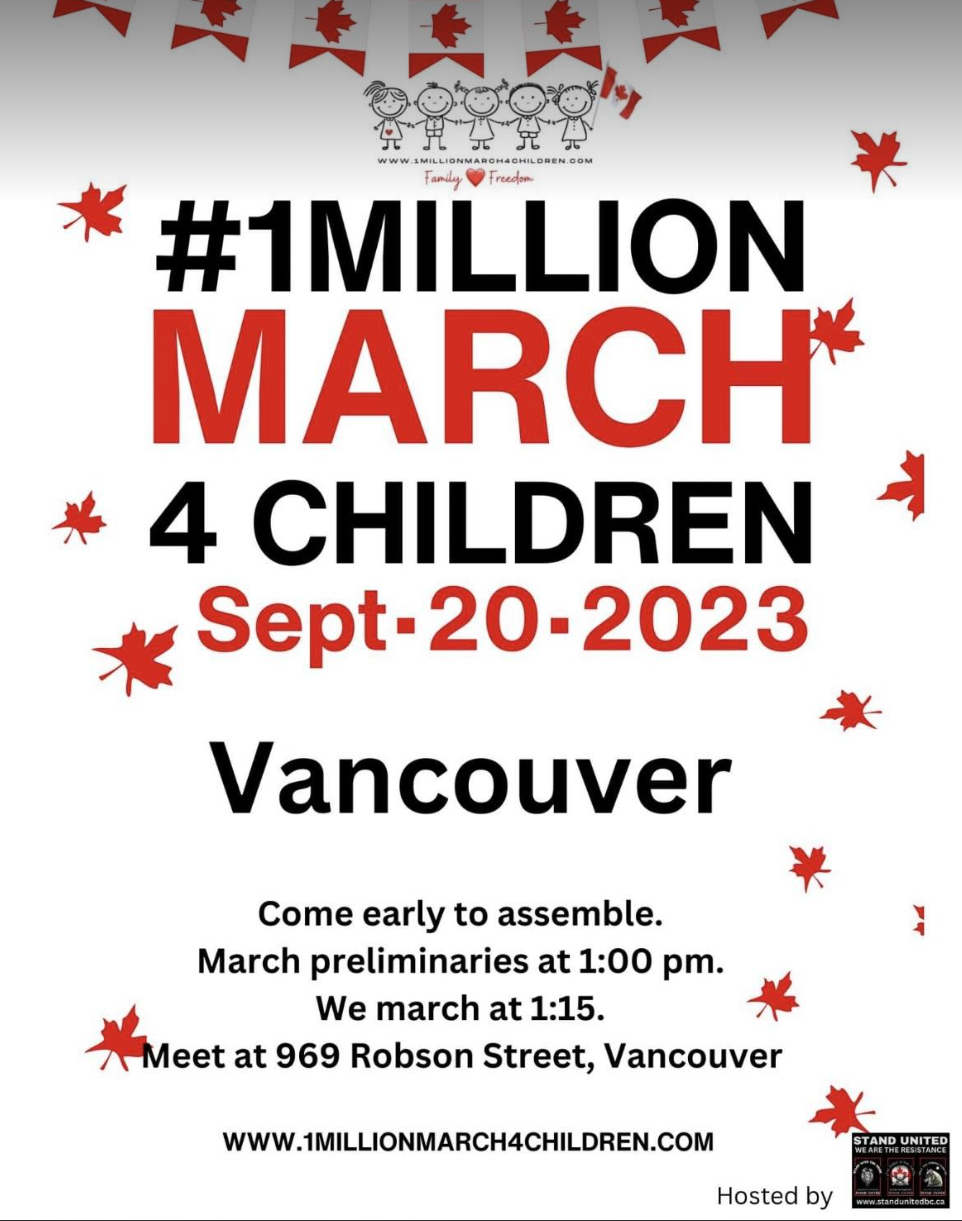 An audio recording of the organizing session for the march was obtained by the Canadian Anti-Hate Network and shared with The Tyee. Kari Simpson hosted the call, which was also attended by Vincent Gircys, a retired police officer who took part in the Ottawa convoy protests.
On the recording, Simpson says that Pride is a "multibillion-dollar industry… involving government grants, pharmaceutical [and] political power" and implies that this "industry is attached" to rising HIV and other sexually transmitted infections.
"You can see the elements here… where they're adding together Big Pharma conspiracies with 'we're trying to make kids queer in schools' and mix them together," Balgord said.
On the recording, Gircys also warns that many of the expected counter-protesters have gotten the COVID-19 vaccine and "are possibly now DNA contaminated," likely referring to an unproven belief that some COVID vaccines can alter recipients' DNA.
Conspiracy theories have become increasingly popular on Canada's right. These conspiracy theories have included beliefs that led people to reject vaccines and medical masks, and theories about Canada being controlled by the World Economic Forum.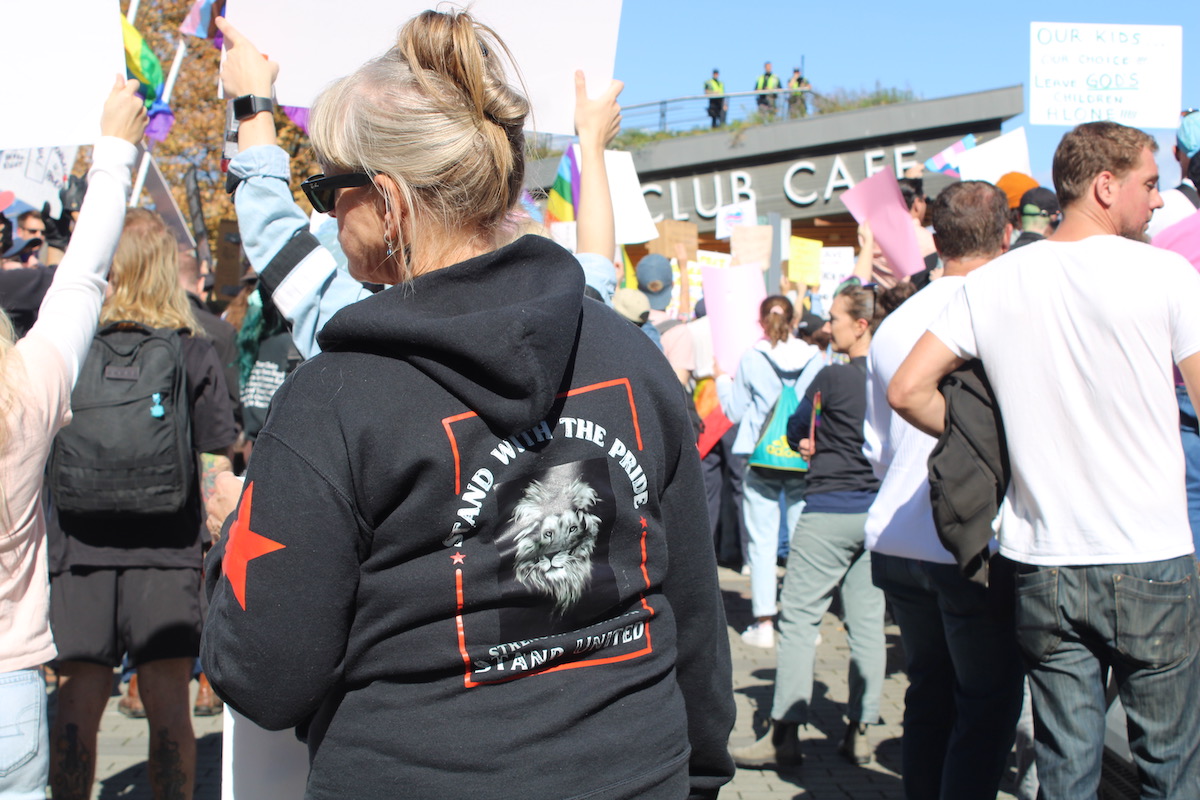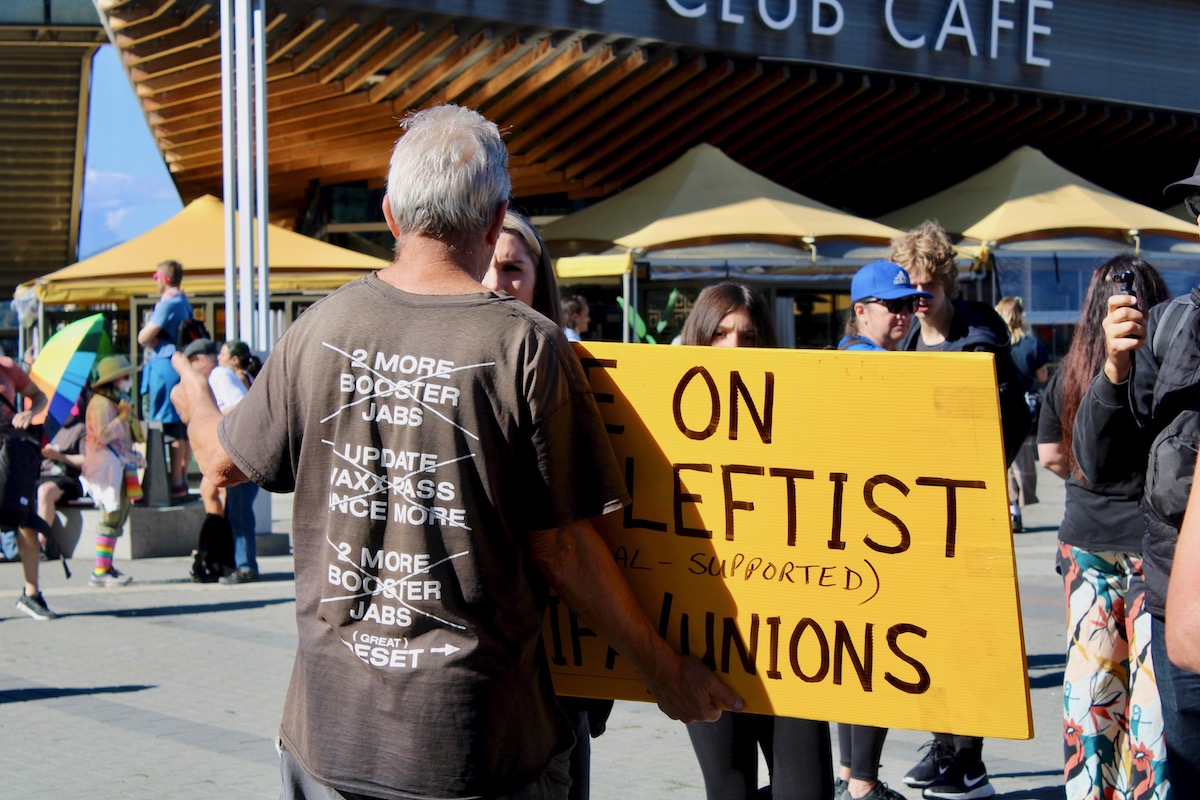 Why it's important to fight back
Thousands of counter-protesters packed Robson Square at noon on Wednesday as a sign of support for LGBTQ2S+ students and educators, as well as SOGI accommodations and education resources in schools.
Counter-protest organizer Sophia Banks told The Tyee on Tuesday that they were expecting about 500 people to show up, based on Facebook responses alone.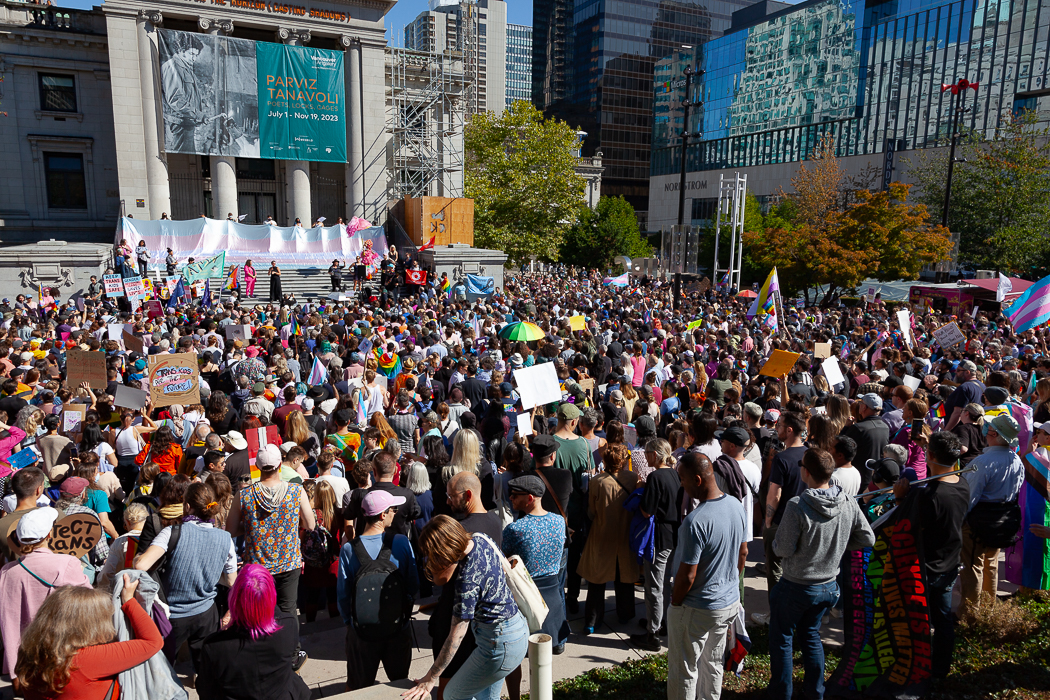 "I think with a lot of trans events like this, we just have a community that's very fractured, very broken. People are burnt out. And not a lot of people want to take this stuff on and take that hate from the right wing," Banks said, adding there has been a lot of support for the counter-protest from unions, Indigenous communities and LGBTQ2S+ allies in general.
Banks pointed to the school policies in New Brunswick and Saskatchewan, as well as the anti-trans policies passed at the recent Conservative Party of Canada convention, as reasons she got involved.
"It's important to stand up for trans kids. We're seeing a lot of transphobia in the schools across the provinces," she said. "That's a violation of their rights and it's going to keep people in the closet."
Representatives from several of the province's largest unions, including the BC Teachers' Federation, BC General Employees Union, United Food and Commercial Workers and BC Federation of Labour attended the counter-protest to show support for their queer and trans membership.
This kind of union solidarity for LGBTQ2S+ people will continue, said Kim Novak, president of UFCW local 1518.
"We have made progress over these years, and even with all that progress we still have so much further to go," she said.
"We cannot afford to take a step back, and unions have a very vital role in making sure we fight for those human rights for every worker and every person in this province."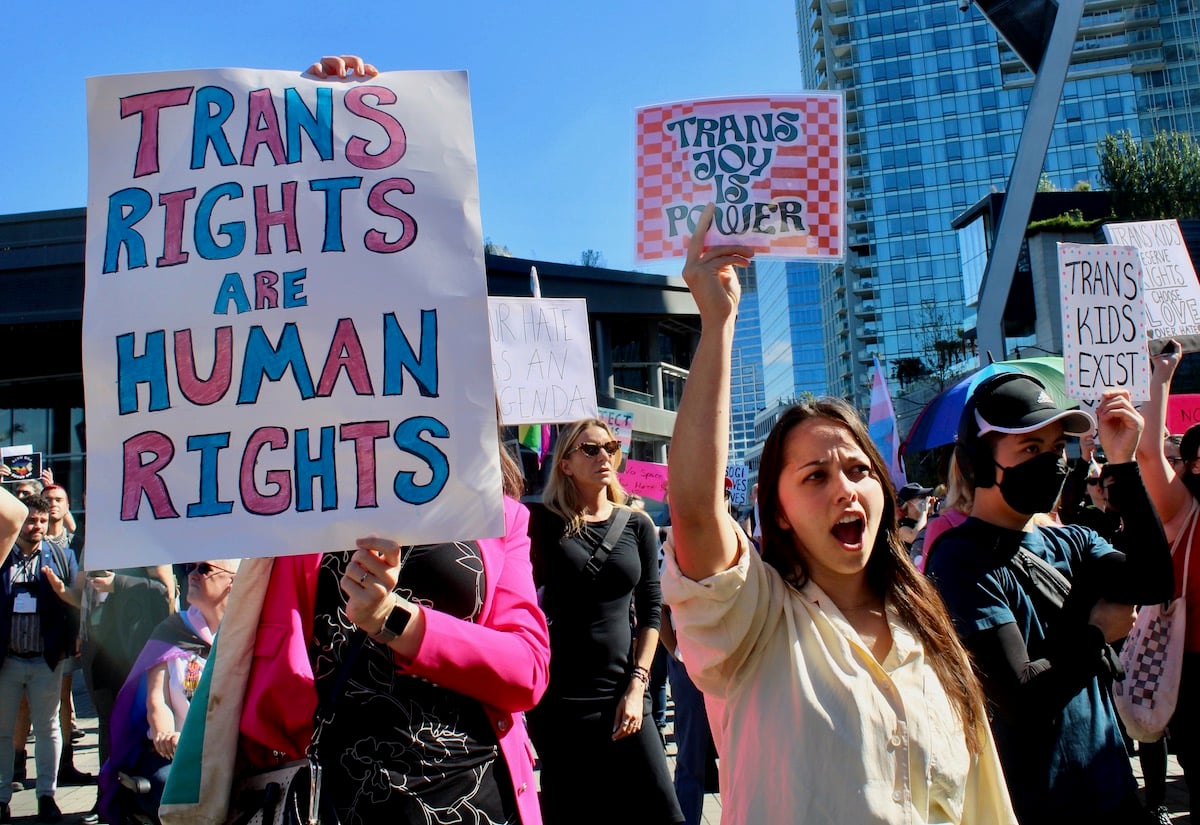 Speakers at the counter-protest included community advocate Audrey Siegl, former city councillor Ellen Woodsworth and BC Federation of Labour president Sussanne Skidmore.
Vancouver's second anti-SOGI protest of the day began at 1 p.m. outside CTV headquarters on Burrard Street, before marching down to Jack Poole Plaza, which is outside the convention centre where the Union of BC Municipalities conference was being held.
"I hope they try to understand that we're all just human beings trying to live the best way we can," said counter-protester Alex Truong, referring to the SOGI opponents.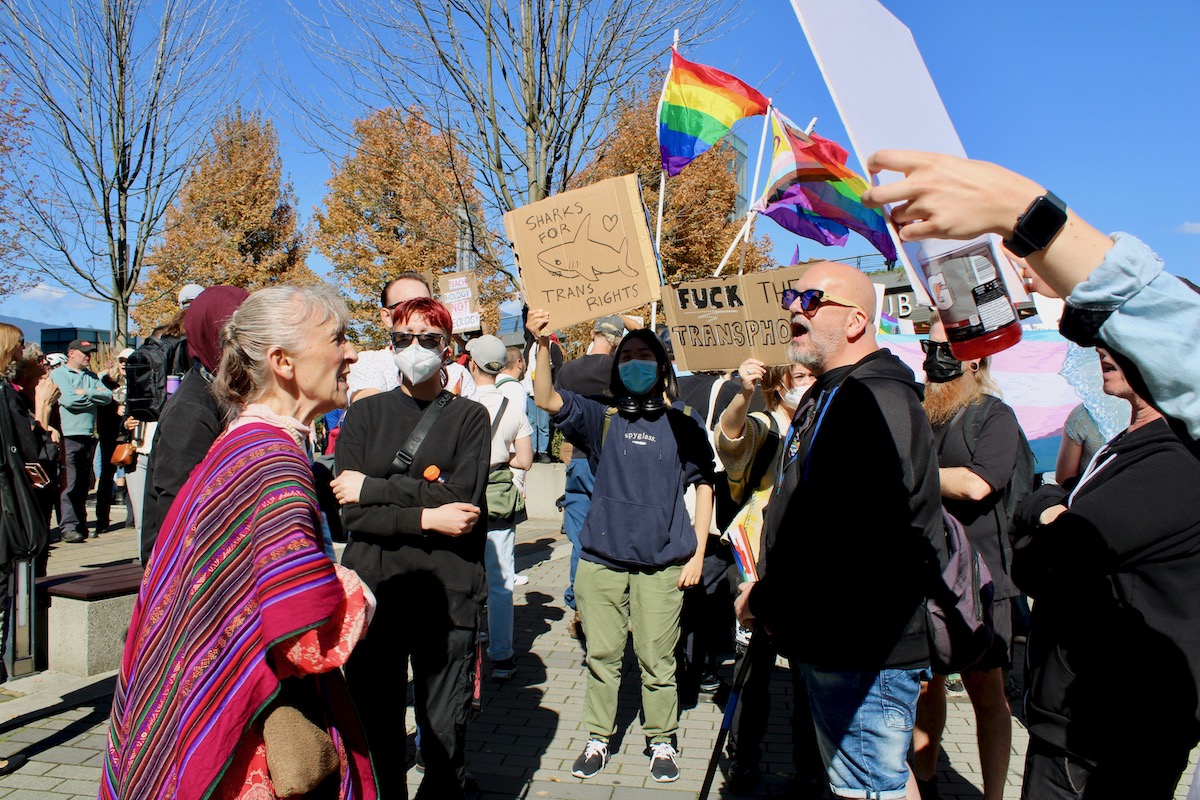 Several hundred counter-protesters followed the march and tried to drown out the anti-SOGI speakers at the plaza.
This public opposition to transphobia and homophobia sends an important message to the people who may not have come out to protest but agreed with what the anti-SOGI protesters were saying, said Balgord.
"The softer supporters of the far-right movement tend to fall away in the face of opposition," he added. "They're afraid of an antifa bogeyman, or they thought they were the majority and when they realize they weren't, there's this powerful social effect that happens."
"People don't like to hold opinions that aren't popular," Balgord said.
Without that fair-weather support, Balgord added, the impact of seeing public protests against support for LGBTQ2S+ people lose out to larger counter-protests looks like less of a winning strategy for socially conservative politicians looking for votes.
When nothing but the hard-core elements remain, Balgord said, it's easy to see "where the core of it is and the extreme rhetoric."