As public schools across Canada sound their bells this morning, parental rights activists will stage what they call a "coast-to-coast walkout" under the moniker Hands Off Our Kids and hashtag #1MillionMarch4Children. B.C.'s rallies are set to take place across the province in Coquitlam, Nanaimo, Vancouver and Victoria, and in other towns and cities across the province including Chilliwack, Powell River, Kamloops and Fort St. John.
Using language popularized by social justice movements, the Hands Off Our Kids community describes itself online as a "collective effort" united "in solidarity," embracing "the principles of human dignity" and "bringing together diverse voices."
The softness of this language cushions the more nefarious central mission of the group: to explicitly threaten and implicitly make a strawman of LGBTQ2S+ families, children and allies by advocating for "the elimination of the sexual orientation and gender identity curriculum, pronouns, gender ideology and mixed bathrooms in Canadian schools."
Hands Off Our Kids mobilizes today as though the issues they're fighting aren't already part of the fabric of everyday life for most people living in the year 2023. They are behaving as though SOGI isn't already an established learning resource for teachers that aims to make schools safer, inclusive spaces free of queerphobic violence and abuse.
They're taking to the streets to question "gender ideology" at a time when employees at workplaces of all stripes include their pronouns in their staff email signatures as a matter of course, because understanding a person's gender identity is just as important as knowing their name.
Their fight against "mixed bathrooms" in schools arrives after the Burnaby School District already installed all-gender washrooms at Parkcrest Elementary and Burnaby South Secondary School, with the intention to install additional all-gender washrooms across the district in the future.
Any wheelchair user or parent of young children knows that such washrooms already exist in restaurants and community centres across the province, and we need more. Hardly a new menace to be feared, these are cornerstones of accessibility that make public spaces work for the people they are designed to serve.
It's a shaky foundation to begin with. But look just under the surface, and it's also clear that the networks underpinning support for #1MillionMarch4Children bring together conspiracy theorists in Canada who have been organizing against COVID-19 vaccines, against public education and in service of Christian nationalism for years.
The result is a grotesque feat of disinformation and fearmongering: children in public schools are under the leadership of educators who don't respect parental consent when it comes to how schools discuss gender identity and sexuality, they argue, and it's up to parents to call the public education system on its bluff.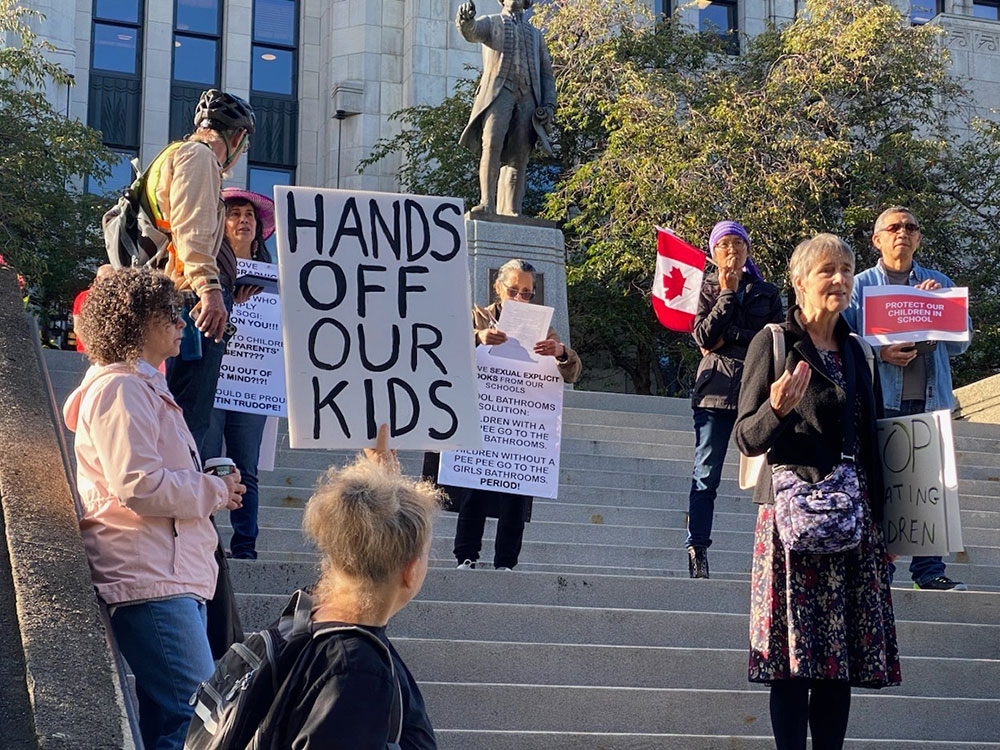 In some circles, it may be easy to tune this stuff out. The harms of degrading and rendering invisible the lives and rights of transgender people is being usefully addressed by people holding public office across Canada, and while it may seem tempting to count ourselves free of Trumpism and extremism on the West Coast where I'm writing, the wide geographic reach of Hands Off Our Kids demonstrates the degree to which conservative movements that place children at the centre of its offerings have endured and continue to proliferate across North America.
The galvanizing, big-tent call to "safeguard children" bears a resemblance to how conspiracy theorists and QAnon have gained traction among suburban women in America, for example. "Three years ago, the only person I'd met in real life who believed in Q was screaming incomprehensible things at a Trump rally," wrote Anne Helen Petersen in Elle in October 2020. "Now someone who's dabbled in Q is poised to become a member of Congress. It's a classic case of the fringe becoming mainstream. Not through any massive shift or societal change, but a gradual incorporation into the everyday lives and beliefs of the middle and upper class."
Petersen's description of U.S. politics — in particular, Marjorie Taylor Greene's rise to power — mirrors what seems to be happening with Hands Off Our Kids. Unlike many protests, which convene supporters in cities, these marches are specifically targeting suburban settings and smaller municipalities like Durham, Ontario, site of the most well-organized and fastidiously scheduled march of the bunch.
They also explicitly encourage participants to bring their kids (a tactic common to anti-abortion protests).
After all, conservative activists' focus on children has been generations in the making, painting a falsely appealing portrait of indignant morality and relatable neighbourliness.
"They are key to a future the conservative wants to win," Sarah Jones wrote for Intelligencer this April. "Parental rights are merely one path to the total capture of state power and the imposition of an authoritarian hierarchy on us all."
There are so many holes in this vision for parental rights. Principally, that our parents don't own us, and though we are legally responsible for their care, children are not our property. We live in a society, and we belong to each other. That's why we should all be supporting queer-inclusive, gender-affirming education for kids at every age. Why all of the energy drained in the digital organizing spaces of parental rights groups should be better spent in support of more accessible national resources for transgender youth and families. Like all young people, they deserve love, safety and beauty. And like any human, they have their own desires and dreams for themselves that are different than what those with power over them might imagine.
But #1MillionMarch4Children was never really about the kids. It's an embarrassing, poorly constructed platform for parents who are afraid of losing control in a world that continues to evolve beyond their grasp.