At Tamam Fine Palestinian Cuisine in Vancouver's Hastings-Sunrise neighbourhood, a mound of onions and ground beef is simmering in a pan. Steam rises from four other pots bubbling on the gas range.
When Sobhi Al-Zobaidi and his wife, Tamam Zobaidi, immigrated to Canada, they wanted to find a way to share their Palestinian culture. Al-Zobaidi, who had previously worked as a filmmaker, and Zobaidi, a visual artist, initially considered opening an art gallery before they opened a restaurant.
There's something special about the power of food when it comes to sharing culture and building community, they say.
As compared to reading a book, viewing art or watching a film, "food works differently," Al-Zobaidi told The Tyee.
"I think it just hits people physically inside their body, and once they like it, they become humbled," he explained.
"They become more curious about the culture, more open and less rigid. With food, it's much easier to talk about geography, to talk about diversity."
Food has also become a way for Al-Zobaidi, Zobaidi and their devoted customers to help people in Gaza.
On Oct. 7, Hamas militants broke into Israeli territory, killing around 1,200 people and seizing 200 hostages, according to the Israeli government. With the publicly stated aim of destroying Hamas, Israel started a bombardment and siege of the enclave of 2.3 million Palestinians — an operation that has now killed more than 11,000 people, including over 4,000 children, according to Palestinian officials, and has led to urgent calls from the United Nations and humanitarian groups for a ceasefire to get food, water and medical help to civilians in Gaza.
Watching the unfolding horror from thousands of kilometres away has been difficult.
"It's hurting us," said Al-Zobaidi, who grew up in Ramallah in the West Bank. "Being here, and talking to our family back home in Palestine, and feeling unable to do anything."
For the past few weeks, the restaurant has cooked up batch after batch of mujaddarah, a dish made of lentils, onions and rice that Al-Zobaidi says evokes strong memories of family and home.
"It's simple, humble, down to earth. Not expensive to make, yet nutritious and flavourful," Al-Zobaidi said. "It's made of rice, lentils, caramelized onions and olive oil. It's vegan and gluten-free. And it represents Palestinian cuisine because in Palestine, we have big families — like nine or 11 kids — and you cannot feed them steak every day. So we grew up eating mujaddarah twice a week — you make a big pot of mujaddarah that lasts a few days."
For two Sundays in a row, the restaurant dished out between 1,000 and 1,200 meals for a suggested donation of $20 each. On Oct. 29, Al-Zobaidi expected to raise $10,000, but the total came in at $14,000. On Nov. 5, Al-Zobaidi and Zobaidi upped their goal to $15,000 — and raised just under $20,000 over the course of the four-hour fundraiser.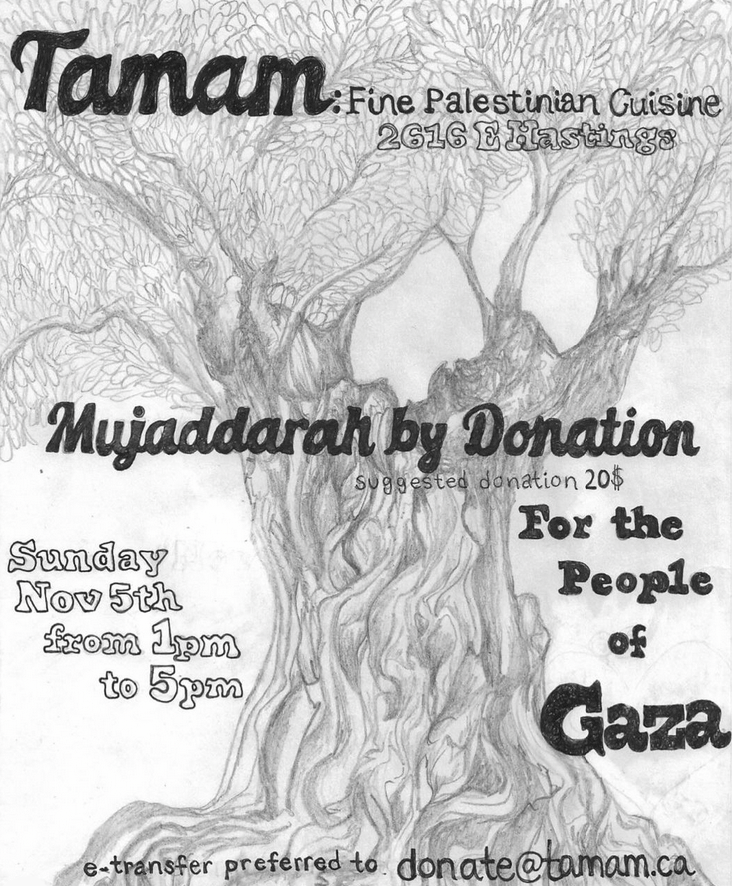 Al-Zobaidi says the money will be donated to organizations that directly help people in Gaza, but he and Zobaidi haven't yet chosen a recipient for the donations.
'We're against any violence'
The conflict can feel difficult, even impossible, to talk about. The weight of it has been felt across numerous communities.
At a rally supporting Palestine in Vancouver on Oct. 19, one man in a small group of pro-Israeli counter-protesters called the rally attendees "terrorists." Two politicians speaking out in support of Palestine in the U.S. and Canada, both Muslim, have been respectively censured and expelled from their party for their comments about the conflict.
Across North America, there have been violent antisemitic and Islamophobic incidents believed to be tied to the conflict. While at a rally in Calgary, police charged a man for speaking a phrase that some interpret as a threat to the existence of Israel, but others defend as a call for freedom from oppression for the Palestinian people.
Even a small business in East Vancouver is not immune to the charged nature of the current moment, Al-Zobaidi said. People have left negative comments in online reviews and on social media. Some messages have even included death threats.
"They sent us emails asking us to condemn Hamas; they sent us emails asking us to confess if we are antisemites or not," Al-Zobaidi said, adding that many of the restaurant's loyal customers are Jewish. "We're against any violence."
But Al-Zobaidi said customers and supporters of the restaurant have stepped up, rebutting the negative online comments and showing up in person to support the business. Al-Zobaidi and his wife are now planning a bigger fundraising event at the restaurant for the end of November.
Al-Zobaidi said he's seen how food can lead to greater understanding of Palestinian struggle.
"They come and they love the food, they come back, they write good things about it, and they come talk to us about it," he said.